Texas' Renewables 2012 Explores the Possibilities
Renewable energy industries have a huge potential to increase economic sustainability if steps can be taken to coalesce around a Unified Energy System. The Unified Energy System includes solar, wind, geothermal, biomass, batteries, hybrid cars, smart meters, efficiency - all the technologies which combine to make the production, distribution and use of energy more complex and exciting than ever before.

Such a system offers the integration of advanced electronics and software, renewable energy and electric transportation technologies, creative financing mechanisms, and innovative energy management, storage and billing structures, to provide a cleaner, more efficient and sustainable future.
The Mueller Community where the Pecan Street Project is located provides a microcosm for studying economic benefits that this type of Unified Energy System can provide now and in the future.
Risks of weather catastrophe, drought and other disasters that impact energy delivery in urban areas are creating economic repercussions that are being felt in communities nationwide. Considering alternative energy storage and delivery solutions is becoming vital.
Unified Energy System, theme for Texas Renewables 2012 Conference delivers a new level of inspiration and insight through entertaining videos, debates, panels and Ted Talk style presentations," said Michael Osborne, conference co-chair. "The conference focuses on new opportunities and a vision of how renewable energy combined with plug in hybrids and smart homes and appliances can work together to create a reliable and affordable energy system."
This year's agenda offers top-notch executives, authors, and thought leaders from businesses, agencies and utilities in the forefront of this new energy paradigm featuring:
*Opening keynote Peter Fox-Penner, Principal and Chairman, The Brattle Group
*Roger Duncan, former manager of Austin Energy and president Pecan Street Project
*Brewster McCracken, executive director of Pecan Street Project
*Kate Galbraith, Writer and Journalist, The Texas Tribune, NYT
*S. David Freeman, Former General Manager, Los Angeles Water & Power
*Heidi VanGenderen, Director of Public Engagement, Office of the Secretary, U.S. Dept. of Energy
Now is the time to register for this conference where renewable energy industries can take advantage of the window of opportunity the industry has and prepare for the coming Texas legislative session.
Texas Renewables Conferences are organized by by Texas Renewable Energy Industries Association (TREIA). TREIA www.treia.org is the oldest renewable energy non-profit trade organization in Texas whose work promoting development of renewable resources and their wise use has spanned a quarter of a century. For more conference information on Texas Renewables 2012 go to www.TexasRenewables.org or call 830-997-2350.
Featured Product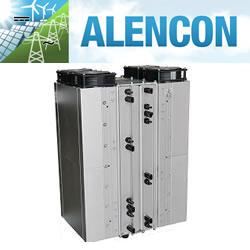 Alencon Systems is the premier manufacturer of high power, high voltage DC:DC optimizers for alternative energy applications including solar, battery energy storage, Microgrids, Fuel Cells and Electric Vehicle charging. Alencon's DC:DC converter offerings include the SPOT, BOSS and CUBE series DC:DC converters. The SPOT is a modular, uni-directional DC:DC solution ideal for solar applications. The BOSS is a modular, bi-directional unit for use with battery energy storage. The CUBE is a monolithic DC:DC converter which is available in both uni-directional and bi-directional modalities. Pictured above, is the Alencon SPOT.