Clean Coal Technologies Implements its Strategic Plans as Development of the 1:10 Scale Pilot Plant Continues
NEW YORK--Clean Coal Technologies, Inc. (OTCQB: CCTC) (PINK: CCTC), an emerging cleaner-energy company utilizing patented technology to convert raw coal into a cleaner burning and more efficient fuel, has announced the funding for its pilot has reached the $1.4 million threshold from Good Coal PTE., Ltd., Clean Coal's joint venture with the Archean Group. This payment is due as part of the previously announced Engineering, Procurement and Construction ("EPC") contract.

"Reaching $1.4 million in funding is a significant milestone for the construction of our pilot plant," stated Robin Eves, Director, President and CEO of Clean Coal Technologies. "We look forward to taking the necessary steps toward successful commercialization of our unique clean coal process and keeping our investors abreast of our developments along the way. As we stated previously, we will be making our last announcement once funding reaches the $2.4 million level."
The $1.4 million in funding by Archean Group to commence construction of the pilot plant is part of the full-value of the $2.4 million assured under the EPC contract. The 1:10 scale pilot plant in Oklahoma will help validate Clean Coal Technologies' patented process to create a cleaner burning fuel.
For more information on Clean Coal Technologies' unique cleaner-burning process and its applications in coal-fired plants, please visit: www.cleancoaltechnologiesinc.com/design.html.
About Clean Coal Technologies, Inc.
Clean Coal Technologies, Inc., a cleaner-energy technology company with headquarters in New York City, NY, holds patented process technology and other intellectual property that converts raw coal into a cleaner burning fuel. The Company's trademarked end products, "Pristine™" coals, are significantly more efficient, less polluting, more cost-effective, and provide more heat than untreated coal. The principal elements of the Company's pre combustion technology are based on well-proven science and tried-and-tested industrial components. The Company's clean coal technology may reduce some 90% of chemical pollutants from coal, including Sulfur and Mercury, thereby resolving emissions issues affecting coal-fired power plants.
For more information about Clean Coal Technologies please visit: www.cleancoaltechnologiesinc.com.
Featured Product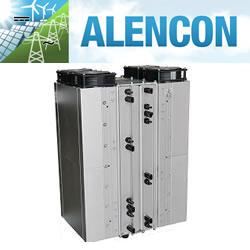 Alencon Systems is the premier manufacturer of high power, high voltage DC:DC optimizers for alternative energy applications including solar, battery energy storage, Microgrids, Fuel Cells and Electric Vehicle charging. Alencon's DC:DC converter offerings include the SPOT, BOSS and CUBE series DC:DC converters. The SPOT is a modular, uni-directional DC:DC solution ideal for solar applications. The BOSS is a modular, bi-directional unit for use with battery energy storage. The CUBE is a monolithic DC:DC converter which is available in both uni-directional and bi-directional modalities. Pictured above, is the Alencon SPOT.