IDT Product also Recognized as 2012 Elektra Awards Finalist for Highly-integrated Smart Grid Energy Metering Solution Offering the Widest Dynamic Range
SAN JOSE, Calif.--Integrated Device Technology, Inc. (IDT®) (NASDAQ:IDTI), the Analog and Digital Company™ delivering essential mixed-signal semiconductor solutions, today announced that its single-phase power metering SoC was awarded the Best Product Award at the eighth-annual EDN China Innovation Awards in the Power/Power Devices and Analog/Front-end ICs category. In addition, IDT's device was recognized as a finalist for Semiconductor Product of the Year – Analogue in the 2012 Elektra European Electronics Industry Awards.

The IDT 90E46 is a single-phase SoC for smart meter designs, which integrates an energy metering analog front-end with a real-time clock, temperature sensor, LCD driver, and ARM Cortex M0 microprocessor. The device offers the industry's widest dynamic range of 5000:1, which enables meter manufacturers to merge various meter types into one, thus simplifying the design and manufacturing process for meter makers and reducing the storage and management complexity for utilities. The high level of integration enables system designers to significantly simplify the hardware design and lower the bill-of-materials (BOM) cost.
"Once again, we are honored that our energy metering devices have been recognized for technical superiority by one of China's most prestigious electronic design magazines, EDN China," said Sean Fan, vice president and general manager at IDT. "Our energy metering ICs offer an unmatched value proposition and have been designed-in at several leading smart meter manufacturers in both China and Europe with approximately 10 million units shipped to date. IDT's strong market penetration is unprecedented in this highly regulated industry, which we achieved in about two years since entering the market."
The IDT 90E46 metering SoC meets or exceeds the requirements set forth by the State Power Grid Corporation of China (SGCC) and is fully compliant with international (both IEC and ANSI) and Chinese standards. It complements the award-winning single-phase energy metering family (90E21, 90E22, 90E23, 90E24) along with the recently announced IDT 90E32AS, the industry's first poly-phase metering IC with piecewise non-linear compensation technology for enhanced accuracy. Visit www.idt.com/go/PowerMeter to learn more.
About IDT
Integrated Device Technology, Inc., the Analog and Digital Company™, develops system-level solutions that optimize its customers' applications. IDT uses its market leadership in timing, serial switching and interfaces, and adds analog and system expertise to provide complete application-optimized, mixed-signal solutions for the communications, computing and consumer segments. Headquartered in San Jose, Calif., IDT has design, manufacturing and sales facilities throughout the world. IDT stock is traded on the NASDAQ Global Select Stock Market® under the symbol "IDTI." Additional information about IDT is accessible at www.IDT.com. Follow IDT on Facebook, LinkedIn, Twitter, and YouTube.
Featured Product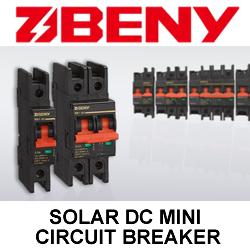 The BB1-63 modular miniature circuit-breakers can be used in solar DC circuits up to 1200 VDC (4-poles execution). Application in solar DC circuits, battery energy storage systems and UPS. Arc flash barrier design keeps solar equipment more safe and reliable. For DC circuit over-current protection.