Becomes Supplier to National Leader of Clean Energy Services
SAN RAFAEL, Calif.--Zep Solar, Inc. (Zep Solar) today announced a two-year supply agreement with SolarCity, a national leader of clean energy services, to provide the company with solar installation hardware designed for use with Zep Compatible solar modules. Under the agreement, Zep Solar will manufacture and supply to SolarCity a range of installation hardware solutions for solar photovoltaic (PV) installations for residential and commercial use.

"We're delighted to see the solar industry's fastest, most innovative, and most cost-effective installation solutions in the hands of SolarCity, one of the largest and most respected solar energy services companies in the US," said Zep Solar CEO Mike Miskovsky. "This agreement underscores the value of Zep Solar's PV module-integrated technology and illustrates the trend toward industry-wide adoption of the Zep Compatible platform."
About Zep Solar
Zep Solar, Inc. was founded in 2009 by PV industry veterans to advance the proliferation of solar energy through well designed PV mounting and grounding products. Zep Solar licenses its patented Zep Groove technology to a growing list of top-tier PV module and power electronics manufacturers and manufactures its own line of complementary mounting and grounding hardware – offering the world's first comprehensive platform for PV system installation. The Zep Compatible platform drastically reduces the cost and complexity of designing, shipping, warehousing, and installing PV systems. Friend us on Facebook and follow us on Twitter @ZepSolar.
Featured Product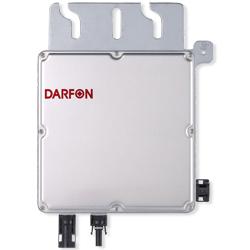 The Darfon G320 is the microinverter solution for today's high-power solar modules. The G320 handles 60- and 72-cell modules up to 350W DC and outputs up to 300W AC. The G320's 3-phase configuration accommodates the electrical distribution systems of most commercial buildings and to reduce, if not eliminate, the need for expensive transformers. The G320 comes in four voltage/phase configurations, so it can be installed in residential, commercial or utility applications.