Morgan Ceramics will be showcasing a range of innovative materials that promote energy conservation and operational efficiency and extend component life at Power-Gen International, taking place December 11-13, 2012, at the Orange County Convention Center, Orlando, FL.
November 2012

Morgan Ceramics showcases innovative materials that promote energy efficiency and extend component life at Power-Gen International 2012
Morgan Ceramics will be showcasing a range of innovative materials that promote energy conservation and operational efficiency and extend component life at Power-Gen International, taking place December 11-13, 2012, at the Orange County Convention Center, Orlando, FL. In Booth 1405, Morgan Ceramics will feature a wide selection of products from both its Thermal Ceramics and Technical Ceramics businesses.
Experienced engineers will be on hand to provide a general overview of capabilities, demonstrate products on display, or provide private consultations regarding custom solutions for specific problems or applications.
Morgan Thermal Ceramics will be highlighting products that promote energy conservation and operational efficiency in the power generation and general maintenance markets including; materials designed for new boilers, revamping existing boilers, or treating hot spots. A range of Superwool® Plus fiber products, ideal for furnace lining insulation in both the power and nuclear markets, will be on display, including Superwool® Plus blanket which features a low bio-persistent fiber. With its lower thermal conductivity, the material enables thinner linings, resulting in significant weight and energy savings.
Morgan Technical Ceramics will be showing its Wesgo pre-sintered preforms (PSP), a sintered metallurgy product that is ideal for high temperature applications in the power generation industry. PSPs provide an effective, reliable solution for crack repair and re-establishing wear areas in industrial gas turbine engines, saving considerable time and money and extending the life of engine components by up to 300 percent.
Also on display will be electrical connectors and liners for down-hole drilling. Electrical connectors are used for continuous power supply for high voltage equipment requiring chemical resistance and good mechanical strength. These electrical connectors are typically made of high purity alumina ceramics, either 96%, AL-600 or 99.5%, AL-995. Liners are used to help maintain the drilling hole, and offer chemical and high temperature resistance. These tubes can be manufactured up to six feet in length, minimizing the number of joints required, and are made of 99.7%, Alsint 997 material. Morgan Technical Ceramics can also provide custom made ceramics to meet your design needs.
For further information, please contact:
Kristin Nugent, 617-367-0100 x148
Kristin.nugent@mgr1.com
Scott Bentley, Morgan Ceramics
scott.bentley@morganplc.com
Tel +44 (0)1299 827000
About Morgan Technical Ceramics
Morgan Technical Ceramics manufactures components and sub-assemblies using an extensive range of materials, including structural and piezoelectric ceramics, dielectrics, braze alloys, and specialist coatings. It works with manufacturers' design and R&D teams at local, national and international level on projects from concept and feasibility studies through prototype development to full production. The business employs some 2,500 people and has 23 manufacturing sites worldwide across Europe, the US, Mexico, China and Australia.
About Morgan Thermal Ceramics
Morgan Thermal Ceramics is a world leader in the design and manufacture of advanced heat insulation products which are used to help reduce energy consumption in a range of industrial processes, from iron and steel production to power generation, and specialized structural fire protection. Key products include Superwool®, the leading low bio-persistent insulating fiber, insulating firebricks (IFBs) and a range of monolithic materials. The business employs some 3,000 people in more than 50 locations worldwide, with manufacturing sites in 25 countries.
Morgan Technical and Thermal Ceramics are businesses within the Morgan Ceramics Division of The Morgan Crucible Company plc, one of the world's leading advanced materials companies. The company specialises in the design, manufacture and marketing of ceramic and carbon products which are used in a wide range of applications, from transport and telecommunications to fire protection and medical instruments. Morgan Crucible is listed on the London Stock Exchange in the engineering sector.
For more information on Morgan l Ceramics visit www.morganceramics.com or contact one of our sales offices below:
Europe
Morgan Technical Ceramics, Bewdley Road, Stourport, Worcestershire, DY13 8QR.
Tel +44 (0)1299 872210 Fax +44 (0)1299 872218
Email mtcuksales@morganplc.com
Morgan Thermal Ceramics, Tebay Road, Bromborough Wirral, Merseyside CH62 3PH. UK
Tel: +44 (0) 151 334 4030
Fax: +44 (0) 151 334 1684
Email: marketing.tc@morganplc.com
North America
Morgan Technical Ceramics, 26 Madison Road, Fairfield, NJ 07004, USA
Tel +1 800 433 0638 Fax: +1 973 227 7135
Email mtcussales@morganplc.com
Morgan Thermal Ceramics, Old Savannah Road, Augusta, Georgia 30906 USA
Tel: +1 (706) 796 4200
Fax: +1 (706) 796 4398
Email: northamerica.tc@morganplc.com
Asia
Morgan Ceramics
150 Kampong Ampat, #05-06A KA Centre, Singapore 368324
Tel +65 6595 0000 Fax +65 6595 0005
Email asia.mc@morganplc.com
South America
Morgan Ceramics
Rua Darcy Pereira 83, Distrito Industrial de Santa Cruz, 23565-190 Rio de Janeiro-RJ, Brazil
T: +55 (21) 3305 7400 F: +55(21) 2418 1205
Email: mtcsasales@morganplc.com
Featured Product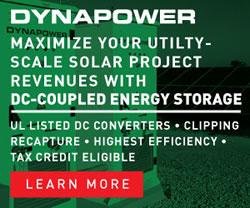 The addition of energy storage to an existing or new utility-scale PV installation allows system owners and operators the opportunity to capture additional revenues. Traditional storage plus solar applications have involved the coupling of independent storage and PV inverters at an AC bus or the use of multi-input hybrid inverters. An alternative approach - coupling energy storage to PV arrays with a DC-to-DC converter - can help maximize production and profits for existing and new utility-scale installations. DC-Coupled Utility-Scale Solar Plus Storage leads to higher round-trip efficiencies and lower cost of integration with existing PV arrays and at the same time, opens up new revenue streams not possible with traditional AC-coupled storage, including clipping recapture and low voltage harvesting, while being eligible for valuable tax incentives.