Strengthens Solar Workforce Development
AUSTIN, Texas, Nov. 27, 2012 -- ImagineSolar will feature

Ideal Power Converters' (IPC) innovative inverter technology in their next
Advanced Photovoltaic (PV) System Technologies course scheduled as a weekend
workshop December 15th and 16th in Austin, Texas.
A photo accompanying this release is available at
http://www.globenewswire.com/newsroom/prs/?pkgid=15933
ImagineSolar, Texas' first licensed solar and smart grid education and
advisory services company, is pleased to announce a training partnership
with Ideal Power Converters (IPC), a developer of disruptive power converter
solutions.
IPC has patented a new breakthrough power converter topology that will
improve both energy and cost efficiency for solar inverters, grid storage,
and electric vehicle charging infrastructure. IPC's initial product, a 94lb
30kW 480VAC PV inverter, is one of the most efficient PV inverters with
96.5% CEC-weighted efficiency. It can lower inverter shipping and
installation costs by 90% compared to conventional transformer based
inverters.
"We are excited to work with the outstanding team at ImagineSolar,"
said Paul Bundschuh, CEO for IPC. "ImagineSolar will conduct a lab using our
inverter technology and will provide insight into the advantages of bi-polar
system design."
ImagineSolar establishes training partnerships with leading manufacturers,
distributors, installation companies, training, and accreditation
organizations to ensure that their courses use the most current technologies
and best practices for the solar and smart grid industries.
"IPC is transforming the PV, grid-storage, and electric vehicle fast
charging markets with their game-changing Universal Power Converter
Platform(TM)," said Michael Kuhn, ImagineSolar Founder and CEO. "This is a
great match with our focus on system solutions for the solar and smart grid
industries."
About Ideal Power Converters:
Ideal Power Converters has patented and is further developing a
revolutionary new power converter technology that significantly improves
weight, size, cost, efficiency and reliability. IPC products will include
solar inverters, wind converters, bidirectional battery and electric vehicle
chargers based on its Universal Power Converter Platform(TM). IPC has
received funding from the State of Texas Emerging Technology Fund, and has
been awarded $2.5M from the U.S. Department of Energy Advanced Research
Projects Agency -- Energy (ARPA-E). IPC was also included in the "Cool
Vendors in Solar Energy, 2012" report published by Gartner Inc. For more
information, visit:
www.IdealPowerConverters.com.
About ImagineSolar:
ImagineSolar is dedicated to accelerating the transformation of the energy
industry through solar and smart grid education and advisory services. They
prepare their customers for clean energy careers and industry certifications
(NABCEP). ImagineSolar is a fully-licensed Texas Workforce Commission (TWC)
school and is ISPQ accredited for Continuing Education by the Interstate
Renewable Energy Council. Also, they are approved by the Texas Department of
Licensing and Regulation
(TDLR) as a Continuing Education Provider. They work nationwide with live
and online lectures, hands-on labs, online courses, employee training
programs, and industry advisory services. For their course schedule and list
of advisory services, visit www.imaginesolar.com or call (888) 514-1972.
Featured Product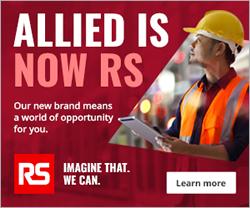 Imagine a global, end-to-end partner for industry - dedicated to solving your problems so you can drive your business forward. We can. On February 6, 2023, we officially changed our name to RS. It's just one way we're evolving to make our partnership and doing business with us even more rewarding. As RS, you have access to more support, more expertise, and more possibilities for your big and small projects - from concept and design to build and maintenance. Going forward, you'll see the RS logo on our website, social media, communications, and packaging. And rest assured, our current systems and procedures will remain intact to seamlessly process your order.