General Wesley Clark, Federal Energy Regulatory Commission Chair Jon Wellinghoff among confirmed speakers
ORLANDO, Fla. (November 28, 2012) --- POWER-GEN International, the world's largest conference and exhibition for the power generation and public utilities sector, will bring more than 20,000 executives from around the world to hear the latest information about the politics, economics and advances in the production and supply of power to communities. The three-day event runs from December 11-13 at the Orange County Convention Center in Orlando, Fla. and includes a panel of the leading authorities from the various sectors including nuclear, wind, solar and biodiesel generation.

Former NATO Supreme Allied Commander and 2004 U.S. presidential candidate Gen. Wesley Clark will be among the featured presenters at the event. In his current capacity as co-chairman for Growth Energy, an ethanol industry public affairs group, Gen. Clark will be speaking on the importance of public-private partnerships in the pursuit of ways to reduce the costs of energy to the average customer.
"From pricing to emissions control to regulation to the future of our dependence on fossil fuels, this is the one industry event that gets into all the top issues," said Russell Ray, committee chair for POWER-GEN. "This is why more than 1,200 exhibitors are flocking to the event, and this is why people need to remember the registration deadline is fast approaching."
The conference kicks off with a keynote panel addressing "The Challenge Ahead", looking at the future of power generation in light of President Obama's re-election, several new nuclear power projects underway and advances in the technology to reduce emissions. The keynote speakers include Gordon Gillette, president of Tampa Electric & Peoples Gas; Jon Wellinghoff, chairman of the Federal Energy Regulatory Commission; E. James Ferland, president and CEO of The Babcock & Wilcox Company; Paul Browning, president & CEO of Thermal Products; and VADM Dennis V. McGinn (USN, Retired), president of the American Council on Renewable Energy.
POWER-GEN International is the only event that can bring together on a single panel leaders from the National Gas Supply Association, the American Coal Council, the National Hydropower Association, the Solar Energy Industries Association, and the American Wind Energy Association. This unique collection of industry leaders will come together to discuss the future of power generation as well as how those involved in utilities can proactively affect change.
Several related annual events of a more specific nature are being co-located this year with POWER-GEN International 2012. The POWER-GEN International Financial Forum, NUCLEAR POWER International and the Renewable Energy World Conference & Expo North America are all being held simultaneously at the convention center so as to allow their attendees to be part of this seminal event.
Additional information on the conference and exhibition is available at www.power-gen.com.
About PennWell:
POWER-GEN International, NUCLEAR POWER International, Renewable Energy World Conference & Expo North America and the POWER-GEN Financial forum are owned and produced by PennWell Corporation based in Tulsa, Okla. PennWell Corporation is a diversified business-to-business media and information company that provides quality content and integrated marketing solutions for the following industries: Oil and gas, electric power, water, electronics, semiconductor, contamination control, optoelectronics, fiber optics, enterprise storage, fire, emergency services and dental. Founded in 1910, PennWell publishes 75 print and online magazines and newsletters, conducts 60 conferences and exhibitions on six continents, and has an extensive offering of books, maps, web sites, research and database services. In addition to PennWell's headquarters in Tulsa, Oklahoma, the company has major offices in Nashua, New Hampshire; Houston, Texas; London, England; Fairlawn, New Jersey; Moscow, Russia; and Hong Kong, China. For additional information about PennWell, visit www.pennwell.com.
Featured Product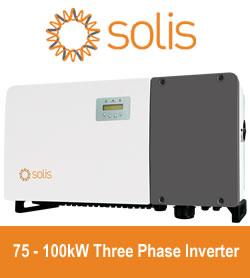 Solis75kW - 100kW series high-power string inverters are widely used in industrial and commercial rooftops. Solis's new three-phase string inverter is the first choice for industrial and commercial photovoltaics. 75-100kW three phase series string inverter have Maximum 28 strings input, support "Y" type connection in DC side. Maximum string input current 13A, support bifacial modules access.Supports anti-PID function to improve system efficiency.