6,700 CIS thin-film modules installed in Izumi City, Kagoshima, Japan for 1MW solar power plant
Tokyo, November 30, 2012 - Solar Frontier announced today that the "Shimozuru Power Plant", a utility-scale solar power plant for which Solar Frontier supplied approximately 6,700 CIS thin-film solar modules, has gone online. The region surrounding the plant is well known as a destination for 10,000 hooded and white-naped cranes that fly in from Siberia around October of each year. This is an extremely rare case where a solar power plant has been built in a region selected by the Ministry of the Environment as one of the "100 soundscapes of Japan". An opening ceremony was held today and was attended by Izumi City Mayor Toshihiko Shibuya, Kagoshima prefectural assembly member Fumiharu Horiguchi, Solar Frontier's General Manager of Domestic Sales Akira Ueno, and others.

The Shimozuru Power Plant has an installed capacity of 1MW, making it one of the largest solar power plants in Kagoshima Prefecture. Approximately 6,700 thin-film CIS solar modules from Solar Frontier were installed within a 20,000m2 area. The operator of the new mega solar power plant is "Izumi Solar Project K.K." (President: Koichi Okada, headquarters: Kamisababuchi, Izumi City, Kagoshima Prefecture), a joint venture company funded by several local people and construction started in July of this year. The new power plant is expected to generate approximately 1,220,000 kilowatt-hours annually, and all of the power that is generated will be sold to the Kyushu Electric Power Company.
Solar Frontier Director and Senior Vice President Atsuhiko Hirano stated, "The selection of solar panels from our company for installation at a wintering ground for cranes, a symbol of Japan, shows that Solar Frontier's CIS thin-film solar modules blend well with the surrounding environment and landscape."
Solar Frontier's CIS thin-film solar cells are an environmentally friendly product because they do not contain cadmium and use minimal raw materials and power when manufactured. They also blend well with the landscape and were awarded the Good Design Award in 2007. The solar cells also demonstrate superior power generation performance and have recorded high levels of actual electricity output in numerous demonstration tests. Moving forward, Solar Frontier intends to continue focusing its attention on researching CIS technology that provides superior economic and environmental performance and on providing customers with even higher performance solar modules.
About Solar Frontier
Solar Frontier K.K., a 100% subsidiary of Showa Shell Sekiyu K.K. (TYO:5002) ("Solar Frontier"), has a mission to create the most economical, ecological solar energy solutions on Earth. Building on a legacy of work in solar energy since the 1970s, Solar Frontier today develops and manufactures CIS (denoting copper, indium, selenium) thin-film solar modules for customers in all sectors around the world. Solar Frontier's gigawatt-scale production facilities in Miyazaki, Japan, integrate compelling economical and ecological advantages into every module: from lower energy requirements in manufacturing to the higher overall output (kWh) of CIS in real operating conditions. Solar Frontier is headquartered in Tokyo, with offices in Europe, the U.S.A., and the Middle East. Visit www.solar-frontier.com for more information.
Featured Product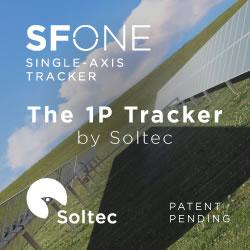 SFOne is the 1P single-axis tracker by Soltec. This tracker combines the mechanical simplicity with the extraordinary expertise of Soltec for more than 18 years. Specially designed for larger 72 an 78 cell modules, this tracker is self-powered thanks to its dedicated module, which results into a lower cost-operational power supply. The SFOne has a 5% less piles than standard competitor, what reduces a 75% the labor time.