Renewable Energy Group® offering fuel from New York's largest biodiesel terminal network
AMES, Iowa--Renewable Energy Group (NASDAQ:REGI) today announced new biodiesel positions at four New York metropolitan terminal locations.

Biodiesel distribution points in Whippany, New Jersey, and New York locations in New Hyde Park, Port Chester and near Brookhaven are slated to offer quick access for blending biodiesel to augment heating oil and diesel supplies.
"Gaining access to the largest biodiesel terminal network in New York is part of Renewable Energy Group's strategy to expand into the Northeast market as a reliable biodiesel supplier," said Renewable Energy Group's (REG) President and CEO, Daniel J. Oh.
"REG has biodiesel on-site in New Hyde Park today to allow area distributors and heating oil retailers to increase supply as the New York City biodiesel blend (B2) requirement goes back into effect December 1," added Gary Haer, Vice President, Sales and Marketing for REG. The requirement first went into effect October 1, but was waived as a result of tight fuel supply issues due to superstorm Sandy.
Biodiesel is now available at the New Hyde Park facility and is being marketed by biodiesel veterans Michael Cooper and Danny Falcone, who recently joined Renewable Energy Group's team.
The company markets REG-9000® branded biodiesel nationwide and directly from REG terminal locations in California, Iowa, Illinois Minnesota, New Mexico, Texas, Ohio and now New York and New Jersey. Renewable Energy Group's current operational production capacity is more than 225 million gallons annually.
Renewable Energy Group® is a leading North American biodiesel producer with a nationwide distribution and logistics system. Utilizing an integrated value chain model, Renewable Energy Group is focused on converting natural fats, oils and greases into advanced biofuels. With more than 225 million gallons of owned/operated annual production capacity at biorefineries across the country, REG is a proven biodiesel partner in the distillate marketplace.
For more than a decade, REG has been a reliable supplier of biodiesel which meets or exceeds ASTM quality specifications. We sell REG-9000® biodiesel to distributors so Americans can have cleaner burning fuels that help lessen our dependence on foreign oil. REG-9000® branded biodiesel is distributed in nearly every state in the U.S.
Featured Product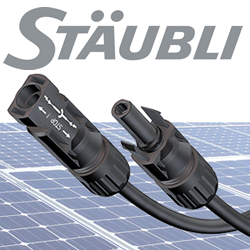 ​Stäubli Electrical Connectors are used on more than 300 GW, over 50% of the PV capacity worldwide. The MC4 family of UL and TUV listed products include connectors, in-line fuses, branch connectors, cable assembly and more.