Growth to include East Coast markets
MIDLAND, Mich.--The Dow Chemical Company (NYSE: DOW) today announced a major expansion of the DOW POWERHOUSE Solar Shingle availability, an award-winning residential roofing system that protects a home like a standard shingle but also has embedded solar cells to power it.

Dow has been piloting the POWERHOUSE Solar Shingle in Colorado, Northern California and Central Texas since earlier this year, and is now doing a major expansion to bring this breakthrough solar roofing system to homeowners in New York, Connecticut, Maryland, Massachusetts, D.C., Louisiana and Michigan.
"We're expanding availability in strategically chosen markets where there is strong interest, where electricity costs are high, and where the market is already supporting solar through legislation and incentives," comments Mauro Gregorio, president, Dow Energy Solutions. "These markets have motivated homeowners who are interested in finding ways to bring down their energy costs. In this case, we're providing a novel solution using an untapped part of the home - a roof - for energy innovation."
POWERHOUSE is offered through a network of professional roofing contractors who have become Authorized Dealers, serving the re-roof and custom home market; and through homebuilders creating POWERHOUSE Solar Communities.
For homeowners needing a new roof, POWERHOUSE provides a replacement option that pays for itself, generates revenue through energy offset, and adds to the value of the home.
Homebuyers purchasing and financing a new home with a POWERHOUSE roof can generate immediate savings, and be cash-flow positive from day one. In both cases, homeowners are able to reduce their overall cost of home ownership and generate unprecedented financial returns with an investment in their roof; and all while reducing their carbon footprint.
"While our authorized dealers are reinventing rooftops on existing homes with POWERHOUSE upgrades, it's equally exciting to see the growth within our homebuilder partners," comments Jane Palmieri, vice president, Dow Solar. "With the residential homebuilding market starting to pick up, and savvy homebuyers seeking smarter homes that cost less to own, it's rewarding to work with homebuilders who are choosing POWERHOUSE as the 'what next' in smart home innovation."
Dow is already working with DR Horton in Denver and Imagine Homes in San Antonio, both creating solar communities using POWERHOUSE as a standard feature on their new homes. As part of the POWERHOUSE expansion, three new leaders in green homebuilding technology and best practices have come on board:
*McStain Neighborhoods: McStain Neighborhoods is an award-winning Denver-Boulder developer and homebuilder that has been in business for more than 45 years, and is the trusted leader in sustainable, energy efficient, green building construction principles in Colorado and nationwide. McStain will offer DOW POWERHOUSE as an upgrade option at their Indian Peaks South neighborhood in Lafayette, CO.
*Brookfield Homes: The homebuilding division of Brookfield Residential has been consistently acknowledged as a leader in the homebuilding industry with a reputation for quality, design and lifestyle building. Brookfield Homes will offer DOW POWERHOUSE as a standard feature in their homes at Midtown, a new community near downtown Denver.
*Cobblestone Homes, a nationally recognized leader in high performance homebuilding, will feature DOW POWERHOUSE on their new models in the Mid-Michigan region.
"The collaboration with DOW POWERHOUSE represents the next step in creating sustainable communities, with solar now being a realistic feature for our homes," said Mark Wahl, president Cobblestone Homes. "Our homebuyers can invest today and determine how much they want to protect against rising energy costs in the future. Just as importantly, POWERHOUSE offers an aesthetically superior look for our exterior design. There is no other product on the market like it."
The integrated design of POWERHOUSE has received endorsement by home owner associations and was recently approved for use on historic structures in Sag Harbor, New York, providing a strong testament to the product's ability to seamlessly integrate into building landscapes. POWERHOUSE has also been recognized as a pioneering technology by Popular Mechanics, who awarded POWERHOUSE with a 2012 Breakthrough Award for innovation.
As additional quantities of product become available from the Company's new production facility in Midland, Mich., additional market roll outs across the U.S. will continue. "We are targeting expansion in response to markets where homeowners are eager for access to our product," said Palmieri.
Made in the USA and backed by a 20 year performance warranty, the DOW POWERHOUSE Solar Shingle is a dual-functioning system that is certified as both a roofing and solar product. It is a complete turnkey package that includes a custom designed system for each home, the inverter to convert DC to useable AC electricity, the utility interconnection so that credit is obtained for the electricity generated, and a web-based monitoring system that provides real-time system performance.
A complete listing of authorized POWERHOUSE dealers and communities can be found on our website www.DowPowerhouse.com.
For more information about DOW POWERHOUSE visit www.DOWPOWERHOUSE.com. Homeowners and building professionals can also follow DOW POWERHOUSE on Facebook (www.facebook.com/DowPowerhouse), Twitter (@DOWPOWERHOUSE), Pinterest (http://pinterest.com/dowpowerhouse/) and via YouTube.
About DOW POWERHOUSE™
The DOW POWERHOUSE™ Solar Shingle is a first-of-its kind product, designed to combine the benefits of solar technology with the durability and performance of traditional roofing materials. The DOW POWERHOUSE Solar Shingle was recently honored as a recipient of a 2012 Breakthrough Award by POPULAR MECHANICS for pioneering an integrated solar roofing system that protects a home from the elements, while generating electricity to power it. POWERHOUSE has been developed to introduce solar technology to a new generation of homeowners by providing an unprecedented integrated roof appearance and simplified installation. It combines a roofing shingle with a solar cell, enabling the DOW POWERHOUSE Solar Shingle to be installed by a roofer along with standard asphalt roofing materials. This makes the DOW POWERHOUSE Solar Shingle an easy choice for homeowners looking for a residential solar solution that is easy to install and aesthetically pleasing. Building Integrated Photovoltaic (BIPV) products from Dow Solar are one of the many innovations from Dow establishing the Company on the forefront of alternative energy solutions and expanding Dow's commitment to using chemistry to solve the world's energy challenges. More information about DOW POWERHOUSE can be found at www.DOWPOWERHOUSE.com. Homeowners and building professionals can also follow DOW POWERHOUSE on Facebook (www.facebook.com/DowPowerhouse) and Twitter (@DOWPOWERHOUSE) or via YouTube.
About Dow
Dow (NYSE: DOW) combines the power of science and technology to passionately innovate what is essential to human progress. The Company connects chemistry and innovation with the principles of sustainability to help address many of the world's most challenging problems such as the need for clean water, renewable energy generation and conservation, and increasing agricultural productivity. Dow's diversified industry-leading portfolio of specialty chemical, advanced materials, agrosciences and plastics businesses delivers a broad range of technology-based products and solutions to customers in approximately 160 countries and in high growth sectors such as electronics, water, energy, coatings and agriculture. In 2011, Dow had annual sales of $60 billion and employed approximately 52,000 people worldwide. The Company's more than 5,000 products are manufactured at 197 sites in 36 countries across the globe. References to "Dow" or the "Company" mean The Dow Chemical Company and its consolidated subsidiaries unless otherwise expressly noted. More information about Dow can be found at www.dow.com.
Featured Product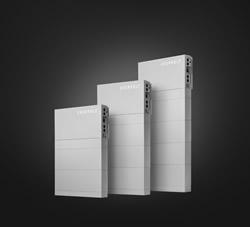 Panasonic's Total Home Energy System is built to deliver. The same battery technology we use to power the world's most advanced electric cars is now available to power your home. But it doesn't stop there. The all-in-one renewable energy system pairs Panasonic solar panels with Evervoltâ"¢ batteries to offer your customers a complete solar + storage solution, manufactured and warrantied by a company you know you can trust. In stock now.