Dow introduced ENLIGHT™ Back Encapsulant Composite Films, a new "2-in-1" technology that serves as both a backsheet and back encapsulant layer for photovoltaic panels.
MIDLAND, Mich.--The Dow Chemical Company's (NYSE:DOW) high-performance ENLIGHT™ Photovoltaic Films marked a number of significant commercial milestones in 2012 with the introduction of new products, additional manufacturing locations and continued technical advancements all aimed at delivering enhanced levels of efficiency and performance to solar panel manufacturers worldwide.
ENLIGHT™ polyolefin-based films from Dow enable photovoltaic cells to work more efficiently at a lower cost, which extends the useful life of solar panels. Due to strong demand, Dow inaugurated a new ENLIGHT™ Photovoltaic Film production facility in Thailand in July, located close to fast growing panel production markets in the Asia Pacific region.
New Products Launched in 2012
Dow introduced ENLIGHT™ Back Encapsulant Composite Films, a new "2-in-1" technology that serves as both a backsheet and back encapsulant layer for photovoltaic panels. The simplified structure eliminates delamination that can occur in today's panels – helping to assure good panel performance and lower lifetime system costs.
Next generation ENLIGHT™ Polyolefin Encapsulant films were also introduced. These new films retain their advantage in moisture resistance, adhesion, and long term weathering performance with additional advances in extended electrical properties and optical transmission, leading to overall increased power generation when compared with more traditional EVA-based encapsulant films.
In addition, next-generation ENLIGHT Films now have five times better Potential Induced Degradation (PID) resistance compared with EVA films, showing only 15 – 20 percent loss in power after accelerated aging, versus a 90 percent loss for EVA under the same conditions.
Additional Production Capacity – Including Installed Solar Panel Power
In July, Dow completed construction of a new, state-of-the-art manufacturing facility for these breakthrough products in Map Ta Phut, Thailand, which has doubled global production capacity for ENLIGHT™ Films. The Map Ta Phut operation has been built with the latest energy efficiency techniques and also recently completed the installation of a 100 KW high efficiency solar panel system on the roof of its manufacturing plant. This system, which will be in place for approximately 25 years, will generate enough electricity to offset 4 million pounds of green house gases that would have been emitted by fossil fuels during that time, or the equivalent of planting 35 acres of trees.
The next phase of manufacturing expansion will take place at Dow's integrated site in Schkopau, Germany. This facility will come on-stream in 2013, and will be Dow's third manufacturing facility, behind Findlay, Ohio and Map Ta Phut.
Dow is also a partner in the new Fraunhofer Innovation Cluster, or "SolarKunststoff," which was opened at the Dow ValuePark in Schkopau at the end of October. Fraunhofer will use this site to coordinate the activities of solar and plastics producers across Central Germany in an effort to drive technological advancement in the sector.
"Dow is committed to finding new and innovative ways to leverage the capabilities of polyolefin technology for the most demanding needs of the growing solar industry," said Brij Sinha, Associate Director of Global Strategic Marketing for Dow's Photovoltaic business. "We are using what we learn from working closely with leading module manufacturers around the world to design new products and manufacturing systems to enable them to make panels with improved processing, enhanced performance and lower total lifetime systems costs. Leading industry reports underscore the demand for performance and cost improvements in photovoltaic materials. Dow's polyolefin-based ENLIGHT™ Film Technology can help do just that."
Dow's Photovoltaic Business is one of seven Dow businesses that serve the needs of the solar value chain – through solar farms, rigid and flexible photovoltaic modules, concentrated solar power systems and solar shingles for residential use.
About Dow
Dow (NYSE: DOW) combines the power of science and technology to passionately innovate what is essential to human progress. The Company connects chemistry and innovation with the principles of sustainability to help address many of the world's most challenging problems such as the need for clean water, renewable energy generation and conservation, and increasing agricultural productivity. Dow's diversified industry-leading portfolio of specialty chemical, advanced materials, agrosciences and plastics businesses delivers a broad range of technology-based products and solutions to customers in approximately 160 countries and in high growth sectors such as electronics, water, energy, coatings and agriculture. In 2011, Dow had annual sales of $60 billion and employed approximately 52,000 people worldwide. The Company's more than 5,000 products are manufactured at 197 sites in 36 countries across the globe. References to "Dow" or the "Company" mean The Dow Chemical Company and its consolidated subsidiaries unless otherwise expressly noted. More information about Dow can be found at www.dow.com.
Featured Product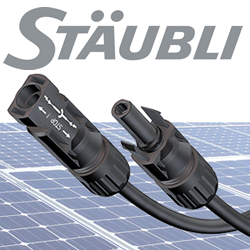 ​Stäubli Electrical Connectors are used on more than 300 GW, over 50% of the PV capacity worldwide. The MC4 family of UL and TUV listed products include connectors, in-line fuses, branch connectors, cable assembly and more.