Partnership Optimizes Operations and Maintenance for Solar PV Installations
Austin, TX and Huntington Beach, CA December 04, 2012

Solar PV industry leaders Draker and True South Renewables, Inc. (TSR) today announced they have formed a partnership to jointly market and deliver a revolutionary operations and maintenance (O&M) solution for commercial and utility-scale solar PV sites. The companies' integrated O&M, monitoring, analytics and asset management solution eliminates substantial operating risks for solar asset owners by combining Draker's Clarity™ DC and AC analytics with TSR's O&M services, including both preventive and corrective maintenance. Additionally, the partnership will automate and optimize the dispatch of technical field personnel.
"By combining Draker's industry-leading panel-to-grid (P2G) monitoring, analytics and diagnostics capabilities with TSR's technical expertise, proactive O&M philosophy and nationwide reach, we are together able to create a truly groundbreaking solution for our customers," said Draker CEO Chach Curtis.
Draker's Clarity DC system and Intelligent Array™ software will be utilized by the Draker/TSR team to identify and troubleshoot DC and AC sources of energy losses, and to prioritize and track completion of O&M tasks to ensure maximum system output.
Rue Phillips, CEO of True South Renewables, commented, "Our customers are seeking certainty of financial returns from their investments in solar PV assets. In July, TSR introduced Total Care, an insured service maintenance warranty that financially guarantees the system's performance ratio. By partnering with Draker to offer total automation and integration between the monitoring technology and the O&M component, we eliminate further uncertainty stemming from corrective and preventive maintenance costs."
The integrated asset management solution will be immediately available for customer sites in the United States and will be available in Canada and elsewhere in 2013.
About Draker
Since 1999, Draker has led the industry with innovative monitoring, management and control solutions for commercial and utility-scale PV systems. Draker's products and services allow PV developers, owners and operators to predict, measure, monitor, manage, optimize and control their solar assets to increase yield and maximize profitability. Draker's complete panel-to-grid (P2G) solutions include data acquisition and control hardware, Clarity™ DC analytics, Intelligent Array™ software, and a wide range of project and field-based services. For more information, visit http://www.drakerenergy.com.
About True South Renewables, Inc.
True South Renewables Inc. (TSR) is the leading independent solar O&M services provider in North America and is a wholly owned subsidiary of Solarrus Corporation. TSR operates over 200 MW of both distributed generation and utility-scale solar PV facilities. The company's national headquarters is located in Huntington Beach, CA and it has regional offices in Newport Beach, CA; Webberville, TX; New York, NY, and Ontario, Canada. For more information about TSR, visit http://www.TrueSouthRenewables.com.
Featured Product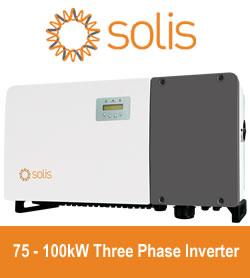 Solis75kW - 100kW series high-power string inverters are widely used in industrial and commercial rooftops. Solis's new three-phase string inverter is the first choice for industrial and commercial photovoltaics. 75-100kW three phase series string inverter have Maximum 28 strings input, support "Y" type connection in DC side. Maximum string input current 13A, support bifacial modules access.Supports anti-PID function to improve system efficiency.