In addition to providing 134 of its workhorse 1.5-megawatt machines – the world's most widely deployed wind turbine – GE is providing operations and maintenance services for Post Rock.
WICHITA, Kan.--A group comprising GE (NYSE: GE) unit GE Energy Financial Services, Metropolitan Life Insurance Company, a wholly owned subsidiary of MetLife, Inc. (NYSE: MET), and Union Bank, N.A., has invested nearly $247 million in Wind Capital Group's recently commissioned 201-megawatt Post Rock wind farm. Wind Capital Group, supported by its parent company, NTR plc, maintains a substantial equity stake and serves as managing member of the project, located 80 miles outside Wichita, Kansas, in Ellsworth and Lincoln Counties. Additional details of the transaction were not disclosed.

"We are very pleased to be working with this well-established investor group and look forward to working together in the future. They each played an integral role in making the project a success," Wind Capital Group Chief Executive Officer David Boyce said today.
Michael McNicholas, Chief Executive Officer of NTR plc, added, "Support from this group of investors has been critical to the success of Post Rock and underscores the importance and commercial viability of renewable energy projects. This is an important milestone for Wind Capital Group, and for NTR, which has identified renewable energy as core to our future growth strategy."
In addition to providing 134 of its workhorse 1.5-megawatt machines – the world's most widely deployed wind turbine – GE is providing operations and maintenance services for Post Rock. The project is selling its electricity to Westar Energy, the largest electric utility in Kansas, under a long term power purchase agreement. Post Rock is Wind Capital Group's second facility in operation using GE's turbines. Together, the 201-megawatt Post Rock project and the 150-megawatt Lost Creek wind farm have a capacity to power approximately 120,000 Midwest homes.
"This project enabled us to expand GE's already strong industrial partnership with Wind Capital Group," said Kevin Walsh, managing director and head of power and renewable energy at GE Energy Financial Services. "In addition to our own investment, we are very pleased to partner with MetLife and Union Bank to round out the equity investor group."
Post Rock's benefits are wide-ranging. Wind Capital Group estimates that this project created approximately 150 jobs, attracted more than $1.5 million in economic activity for local businesses during development and construction, provides a new source of revenue for rural Kansans and helps the state meet its renewable energy portfolio targets. Post Rock is capable of powering more than 70,000 average homes and displacing about 815,000 tons per year of greenhouse gas emissions, the equivalent of taking 145,000 average US cars off the road, according to US Environmental Protection Agency methodology.
"Investing in the Post Rock wind farm enabled MetLife not only to support an important renewable energy initiative, but also provide economic development opportunities to the Wichita area," said Steven J. Goulart, executive vice president and chief investment officer of MetLife, Inc. "We are proud to support endeavors like Post Rock, which align with MetLife's overall high-quality investment approach and build upon the more than $2.5 billion we've already invested in renewable energy projects."
"This is a great example of three entities coming together to help finance an energy project that will provide clean, affordable power to Kansas residents," said Lance Markowitz, Union Bank senior vice president and head of its leasing and asset finance division. "This is Union Bank's third wind project in Kansas and we now have provided financing to more than 60 renewable energy projects in North America. Our 30-plus years in the energy business helps bring these types of projects to completion. We're thrilled to partner with MetLife and GE."
This is GE Energy Financial Services' third investment in Kansas, following its 2009 investments in a 201-megawatt wind farm in Meridian Way and a 101-megawatt project in Smoky Hills. It expands the GE unit's global wind portfolio, which comprises equity investments and debt financings for projects spanning 17 US states and five countries, totaling almost 9,800 megawatts in operation or under construction. GE Energy Financial Services' wind investing supports GE's broader ecomagination strategy to create value for customers by solving energy, efficiency and water challenges.
CCA Capital, LLC served as financial advisor to MetLife on this transaction. Neither GE Energy Financial Services nor Union Bank used financial advisors.
About Wind Capital Group
Formed in 2005, Wind Capital Group is an American company committed to harnessing a clean, renewable source of energy - creating jobs, generating economic opportunity and building a strong foundation for domestic energy independence. Wind Capital Group's model is built on forming responsible partnerships with the communities in which we operate and providing long-term value for our investors.
Currently, Wind Capital Group is developing and operating utility-scale wind farm projects across the U.S. and has offices in St. Louis, Missouri; Madison, Wisconsin; and Chicago, Illinois. Wind Capital Group is a subsidiary of NTR plc.
For more information about Wind Capital Group, visit www.windcapitalgroup.com.
About NTR
NTR plc is a leading investor in renewable energy and sustainable waste management businesses. Founded in 1978, NTR has evolved from being a developer and operator of infrastructure in Ireland to an international developer and operator of renewable energy and sustainable waste management businesses in the USA and Ireland. For more information, visit www.ntrplc.com.
About GE Energy Financial Services
GE Energy Financial Services—GE's energy investing business—works as a builder, not just a banker, to help meet the world's power and fuel needs. We offer more than money—expertise—for essential, long-lived and capital-intensive power, oil and gas infrastructure—GE's core business. Drawing on GE's energy technical know-how, financial strength and risk management, we see value where others don't and take on our customers' toughest challenges with flexible equity and debt transaction structures. Based in Stamford, Connecticut, GE Energy Financial Services holds an approximately $20 billion global energy portfolio. More information: www.geenergyfinancialservices.com
Follow GE Energy Financial Services on Twitter: @GEEnergyFinServ
About GE Power & Water
GE Power & Water provides customers with a broad array of power generation, energy delivery and water process technologies to solve their challenges locally. Power & Water works in all areas of the energy industry including renewable resources such as wind and solar; biogas and alternative fuels; and coal, oil, natural gas and nuclear energy. The business also develops advanced technologies to help solve the world's most complex challenges related to water availability and quality. Numerous products are qualified under ecomagination, GE's commitment to providing innovative solutions that maximize resources, drive efficiencies and help make the world work better. Power & Water's seven business units include Aeroderivative Gas Turbines; Gas Engines; Nuclear Energy; Power Generation Services; Renewable Energy; Thermal Products and Water & Process Technologies. Headquartered in Schenectady, N.Y., Power & Water is GE's largest industrial business.
Follow GE Power & Water and GE's renewables business on Twitter @GE_PowerWater and @GErenewables.
About GE
GE (NYSE: GE) works on things that matter. The best people and the best technologies taking on the toughest challenges. Finding solutions in energy, health and home, transportation and finance. Building, powering, moving and curing the world. Not just imagining. Doing. GE works. For more information, visit the company's website at www.ge.com.
About MetLife
MetLife, Inc. is a leading global provider of insurance, annuities and employee benefit programs, serving 90 million customers in over 50 countries. Through its subsidiaries and affiliates, MetLife holds leading market positions in the United States, Japan, Latin America, Asia Pacific, Europe and the Middle East. For more information, visit www.metlife.com.
About UnionBanCal Corporation & Union Bank, N.A.
Headquartered in San Francisco, UnionBanCal Corporation is a financial holding company with assets of $88.2 billion at September 30, 2012. Its primary subsidiary, Union Bank, N.A., is a full service commercial bank providing an array of financial services to individuals, small businesses, middle-market companies, and major corporations. The bank operated 402 branches in California, Washington, Oregon, Texas, Illinois, and New York as well as two international offices, on September 30, 2012. UnionBanCal Corporation is a wholly-owned subsidiary of The Bank of Tokyo-Mitsubishi UFJ, Ltd., which is a subsidiary of Mitsubishi UFJ Financial Group, Inc. Union Bank is a proud member of the Mitsubishi UFJ Financial Group (MUFG, NYSE:MTU), one of the world's largest financial organizations. Visit www.unionbank.com for more information.
Featured Product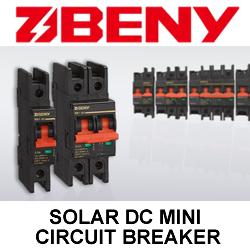 The BB1-63 modular miniature circuit-breakers can be used in solar DC circuits up to 1200 VDC (4-poles execution). Application in solar DC circuits, battery energy storage systems and UPS. Arc flash barrier design keeps solar equipment more safe and reliable. For DC circuit over-current protection.