REFUsol has seen steady sales growth and plans further expansion
Fremont, Calif. — December 3, 2012 - REFUsol, Inc. (http://www.refusol.com/), a leading provider of solar inverters, has recently expanded its U.S. headquarters to a new office space in Fremont, California. Increasing demand for string inverters driven by commercial rooftops and carports has generated positive results this year and REFUsol quadrupling the number of employees. Refusol's US manufacturing facility, located in Greenville, South Carolina, has the capacity to meet this increasing demand through 2020.

Having launched operations in the U.S. market in late 2009, REFUsol has seen steady sales growth and plans further expansion. The new office signifies continued momentum for the company as it rolls out additional products and services to the U.S. market. REFUsol GmbH has been advancing photovoltaics since 1997 with a 50 year history in power electronics. REFUsol is ranked number three in Germany for inverter manufacturers and has an international presence which includes offices in 16 countries.
Ben Driver, REFUsol CEO, since February 2012, has been instrumental in the company's U.S. growth, "Our parent company in Germany has been at the forefront of leading solar inverter technology, and we're continuing that tradition in North America by providing cutting-edge technology to top organizations."
In addition to South Carolina, REFUsol manufactures in Ontario, Canada and complies with local content requirements. The company is expanding in Ontario market and will open a new office in 2013. REFUsol will exhibit this week at CanSIA's Solar Canada 2012 conference in Toronto, Ontario in booth #803.
For more information on REFUsol, visit the company's website at http://www.refusol.com.
About REFUsol
With over 45 years of experience in power electronics, REFUsol is one of the top three providers of solar inverters globally and one of the fastest growing companies in this field. REFUsol's efficient and award-winning solar inverters help customers maximize the yield of their photovoltaic plants, whether for small roof-top installations or large-scale solar plants. REFUsol is headquartered in Metzingen, Germany and has further international offices in Europe, Korea, China, India and the U.S. as well as sales and service partners in key strategic photovoltaic markets around the world. Please visit http://www.refusol.com for more information.
Featured Product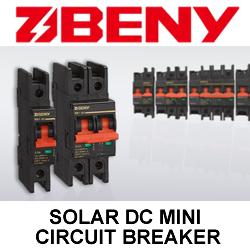 The BB1-63 modular miniature circuit-breakers can be used in solar DC circuits up to 1200 VDC (4-poles execution). Application in solar DC circuits, battery energy storage systems and UPS. Arc flash barrier design keeps solar equipment more safe and reliable. For DC circuit over-current protection.