Winners Embody Innovative Spirit in Developing Green Energy Initiatives and Technologies
NEW YORK, November 30, 2012 – Energy efficiency and innovation was in the spotlight at last night's Platts Global Energy Awards, where several companies and individuals won honors for green energy technologies and visionary leadership for a sustainable energy future. Winners in 19 performance categories were recognized at a black-tie dinner in Manhattan.

"It's encouraging to see so many industry participants making energy efficiency and renewable energy a top priority despite the economic challenges of the past few years," said Larry Neal, president of Platts, a leading global energy, petrochemicals and metals information provider and host of the Global Energy Awards. "These winners are to be congratulated for going above and beyond the status quo and providing the world with clean energy solutions."
Now in its 14th year, the Platts Global Energy Awards program honors outstanding corporate and individual achievements in the energy industry.
The winner of this year's "Green Energy Supplier" award hails from America's heartland – MidAmerican Energy Company. Based in Des Moines, Iowa, MidAmerican Energy Company began installing wind turbines in 2004, and since has become the premier wind power generator among all U.S. regulated utilities. MidAmerican won the judges' recognition for its commitment to providing a low-cost, sustainable energy source that enables local economic development.
Kevin Smith, CEO of California-based SolarReserve, won honors as this year's "Rising Star – Individual" for his contributions to the renewable energy industry. Smith led his company's efforts to commercialize a technology for storing solar heat in molten salt, which it retains and uses later to generate electricity. The judges cited his entrepreneurial excellence and unwavering dedication in naming him the 2012 winner.
Inspiring consumers to make everyday changes that achieve energy efficiency led to the judges' choice of winners for the "Rising Star – Company" and "Industry Leadership" awards. The former title went to Arlington, Virginia-based OPower, which has pioneered a groundbreaking software platform that produces targeted messaging which motivates consumers to change their energy usage habits and save money. EnerNOC, headquartered in Boston, won the latter award for its energy management tools which give customers greater insight into their energy use and greater control over their energy costs.
The Platts Global Energy Awards program also acknowledged an energy supplier and end-user company for their energy efficiency programs. Bangalore-based Enzen Global Solutions Pvt Ltd won the 2012 "Energy Efficiency – Energy Supplier" award for its initiative "Project Wildflower," which increases water efficiency in the agriculture sector. Kohl's Department Stores was named this year's 2012 "Energy Efficiency – End-User" for setting a strong example in the U.S. retail industry for increasing energy efficiency by putting solar installations atop stores and implementing other such green building programs.
Honors for leading energy industry technologies didn't stop with energy efficiency. Canada's GASFRAC Energy Services, Inc., a shale well-fracturing company, took home 2012 "Commercial Application" award for its patented liquid petroleum gas (LPG) gel used in place of water in hydraulic fracturing, or fracking. The judges lauded the Alberta-based company for providing the industry with an alternative technology that yields higher natural gas production while eleviating environmental concerns.
Also rocking the energy landscape is Renmatix, a company pursuing non-food biomass-to-sugar conversion for energy consumption. The Pennsylvania-based company took home the "Sustainable Innovation" award for its PlantroseTM technology, which produces affordable, bio-based alternatives to petroleum feedstocks used to manufacture everyday products, such as paint, plastics, food preservatives and gasoline.
The Awards program, held at the Cipriani Wall Street in downtown New York City, was attended by hundreds of energy executives and emceed by CNBC Television's Amanda Drury for a third consecutive year.
Preceding the Awards ceremony was the sixth annual Platts Global Energy Outlook Forum "Fuel Fight: Environment Meets Economics," where speakers and participants discussed challenges to a low-carbon green economy, how to remove impediments to scalable green energy and the long-term supply and demand outlook for energy. Shell Oil Company President Marvin Odum presented the keynote address.
The 2012 Platts Global Energy Awards sponsors included Capgemini, as principal for a 10th consecutive year, along with returning Elster for a 5th year.
More information on the 2012 winners can be found in the December Platts Insight Magazine, on the media kit, or on the Platts Global Energy Awards website.
Next year's Platts Global Energy Awards and events will be held December 12, 2012 in New York City. Platts will hold its inaugural Platts Global Metals Awards program May 23, 2013 in London.
About Platts: Founded in 1909, Platts is a leading global provider of energy, petrochemicals and metals information and a premier source of benchmark prices for those markets. Platts' news, pricing, analytics, commentary and conferences help customers make better-informed trading and business decisions and help the markets operate with greater transparency and efficiency. Customers in 150 countries benefit from Platts' coverage of the oil, petrochemicals, natural gas, electricity, coal, nuclear power, shipping, and metals markets. A division of The McGraw-Hill Companies, Platts has approximately 900 employees in more than 15 offices worldwide.
About The McGraw-Hill Companies: McGraw-Hill announced on September 12, 2011, its intention to separate into two public companies: McGraw-Hill Financial, a leading provider of content and analytics to global financial markets, and McGraw-Hill Education, a leading education company focused on digital learning and education services worldwide. McGraw-Hill Financial's leading brands include Standard & Poor's Ratings Services, S&P Capital IQ, S&P Indices, Platts energy information services and J.D. Power and Associates. With sales of $6.2 billion in 2011, the Corporation has approximately 23,000 employees across more than 280 offices in 40 countries. Additional information is available at www.mcgraw-hill.com.
Featured Product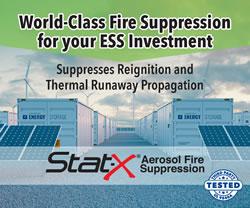 Stat-X® condensed aerosol fire suppression is a solution for energy storage systems (ESS) and battery energy storage systems (BESS) applications. Our Stat-X condensed aerosol fire extinguishing product was tested for efficacy in suppressing li-ion battery fires. It was found that the product successfully extinguished single and double cell battery fires. This testing was conducted in parallel with a large battery fire testing program on behalf of a large energy storage company.