The event has strong international partners
On March 18 and 19, 2013 the second staging of Energy Storage - International Summit for the Storage of Renewable Energies - will take place at the fairgrounds in Düsseldorf, Germany. Organized by Messe Düsseldorf in cooperation with Solarpaxis AG, the conference and accompanying exhibition will bring together experts from science, industry and politics to promote practical and commercially viable storage solutions for renewable energies. Topics will include political conditions, financing, cost-effectiveness and integration of the main storage technologies. The conference language will be English.

Messe Düsseldorf is renowned as the organizer of No. 1 international trade fairs while Solarpraxis AG is one of the leading knowledge service providers in the renewable energy sector.
The event has strong international partners, including international associations such as the China Energy Storage Alliance (CNESA), the India Energy Storage Alliance (IESA), the California Energy Storage Alliance (CESA), the International Photovoltaic Equipment Association (IPVEA) as well as the Association of European Automotive and Industrial Battery Manufacturers (Eurobat). With this support, the organizers are able to expand the international orientation of Energy Storage 2013, bringing together even more countries to exchange technical ideas and establish business contacts. The conference participants will benefit from the profound market knowledge of the representatives of these international associations.
Additional partners of next year's event include the EnergieAgentur.NRW, the Centre for Solar Energy and Hydrogen Research Baden-Württemberg (ZSW), the Bavarian Center for Applied Energy Research (ZAE), the Fraunhofer Institute for Solar Energy Systems (ISE), the National Organisation Hydrogen and Fuel Technology (NOW), the Fraunhofer Energy Alliance, Germany Trade and Invest (GTAI) and the Max Planck Institute for Chemical Energy Conversion.
The internationally recognized scientist Prof. Eicke R. Weber, Spokesperson of the Fraunhofer Energy Alliance and Director of the Fraunhofer Institute for Solar Energy Systems, is the Chairman of the program committee. Keynote speakers will include Peter Altmaier, Federal Minister of the Environment and Jeremy Rifkin, President of the Foundation of Economic Trends. The program will include other renowned experts such as Dr. Klaus Bonhoff, Managing Director, National Organisation Hydrogen and Fuel Cell Technology (NOW), Janice Lin, Managing Partner of Strategen Consulting LLC and CEO and co-founder of the California Energy Storage Alliance (CESA), Dr. Jens Tübke, Head of the Applied Electrochemistry department, Fraunhofer Institute for Chemical Technology (ICT), Dr. Günther Ebert, Head of the Electrical Energy Systems division, Electromobility, Fraunhofer Institute for Solar Energy Systems (ISE) as well as Dr. Andreas Hauer, Head of the Technology for Energy Systems and Renewable Energy department, Bavarian Center for Applied Energy Research (ZAE Bayern) and Prof. Dr. Volker Quaschning, University of Applied Sciences, HTW Berlin.
At the accompanying trade fair, companies will showcase marketable applications and new concepts in the field of energy storage. A new addition will be the Production Technology Forum, taking place March 18, 2013 in the afternoon. Discussions will focus on current manufacturing technologies, application possibilities and challenges of battery production.
The first staging of the Energy Storage conference in spring 2012 attracted great interest in the industry, with more than 350 participants from 29 countries. In 2013, the conference will again be complemented by an exhibition. Companies interested in presenting marketable applications and new concepts in the field of energy storage are invited to take part in this exhibition. The current program as well as further information on the Energy Storage conference and trade fair is available at www.energy-storage-online.com.
For further information about participating in Energy Storage 2013, contact Messe Düsseldorf North America, 150 North Michigan Avenue, Suite 2920, Chicago, IL 60601. Telephone: (312) 781-5180; Fax: (312) 781-5188; E-mail: dknoll@mdna.com; Visit our web site http://www.mdna.com; Subscribe to our blog at http://blog.mdna.com; Follow us on twitter at http://twitter.com/Industrial_MDNA
Featured Product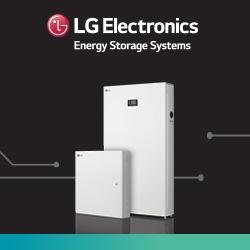 Meet LG Electronics Home 8 Energy Storage System (ESS), a whole home battery backup solution built with installers and their homeowner customers in mind. The ready-to-deploy Home 8 features just one SKU and a modular assembly for fast installation. It can be AC-coupled or solar-powered and is engineered with a grid-connected inverter, four battery modules, and a Smart Energy Box featuring a 7'' LCD touchscreen with commissioning wizard for easy setup. Each Home 8 unit can store up to 14.4 kWh of usable power, helping homeowners gain pure independence from the grid. Plus, installers can connect up to four units, bringing customers up to 57.6 kWh of total backup power-all easily managed and monitored through intuitive mobile apps.