This decrease of new plants in Germany will also urge the German plant manufacturers to expand abroad.
The installed capacity in the worldwide market for biogas plants will increase from around 4,700 to about 7,400 MWel between 2012 and 2016. This growth will mainly take place in European countries such as Italy, the UK and France. The German biogas market, by contrast, has slumped dramatically since early 2012. This forces the German biogas industry to internationalise their business strategies.

Throughout the world, there are more than 10,000 operational biogas plants with an installed capacity of about 5,000 MWel. Almost two thirds of the facilities are located in Germany. The worldwide installed capacity in biogas plants will further increase by 2,700 MWel from 2012 until 2016 and the number of plants will grow by another 3,800. However, the focus of this growth will shift away from Germany, where it has mainly happened over the past five years. The German share of newly worldwide constructed plants for instance will decrease to about a third. New strong markets will evolve in other European countries, North America and Asia.
Due to their favourable subsidisation schemes, the already established biogas markets in Italy, the United Kingdom, the Czech Republic and the Netherlands will continue to be among the most important markets in the next five years. France is one of the new strong European growth markets. The country introduced a feed-in tariff in 2011 and simplified the approval procedures for the construction of biogas plants. Further emerging markets can be found in Eastern Europe. Poland has for instance announced to introduce a feed-in tariff in early 2013.
The most important non-European markets of the years to come will be the North American and Asian ones. Most biogas plants will be constructed in the USA, Canada, China, India and Japan. The growth in the USA will especially accelerate, as the country's current project pipeline is one of the largest throughout the world. Standards in India and China will reach western levels in the years to come and the countries will significantly develop their biogas markets thanks to their huge biomass potentials. Japan introduced the world's highest feed-in tariff for biogas in mid-2012, which will trigger considerable dynamics in this market.
Compared to these growth markets, the world's largest biogas market in Germany has slumped dramatically since early 2012. This is mainly due to the amended Renewable Energy Act (Erneuerbare-Energien-Gesetz, EEG). Compensation rates for biogas were in some cases reduced significantly and legal conditions were tightened (for instance, plants now have to use at least 60 per cent of their waste heat). This is why in Germany the number of newly constructed biogas plants per year will decrease from about 1,300 in 2011 to 300 plants in 2012; the installed capacity will decline from 610 auf 200 MWel. In the long term, the German market will stabilise on this lower level.
This decrease of new plants in Germany will also urge the German plant manufacturers to expand abroad. The German market's size has resulted in the development of an own industry. However, as subsidisation conditions have worsened in Germany but improved in other countries, these companies now try to enter the international markets. In 2012, many large plant manufacturers already generate more than half of their turnover in foreign countries.
ecoprog's and Fraunhofer UMSICHT's market study "Biogas to Energy", of which the third update has just been published, is the world's largest data collection on biogas plants. Find further information at: www.ecoprog.com
As a respected industry expert, ecoprog accompanies clients from Germany and abroad in dealing with implementation-oriented management issues in environmental and energy technology. ecoprog focuses on strategy consulting, market and competition analyses as well as multi-client studies. The Fraunhofer Institute for Environmental, Safety and Energy Technology (Fraunhofer UMSICHT) develops, reviews and optimises techniques in the fields of environmental, security, process and energy technology. Together, they work out market studies on selected topics in the energy and environmental technology industries.
Featured Product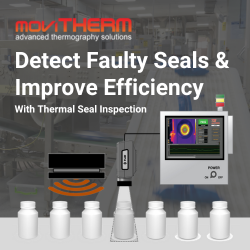 MoviTHERM's Thermal Seal Inspection (TSI) solution provides precise and reliable detection of defects in a variety of packaging types, including pouches, bags, blister packs, bottle caps, and more. By detecting defects in your packages, the TSI solution helps increase efficiency in your production line and ensures top-quality packaging is delivered to your customers every time. With state-of-the-art technology and an experienced team, MoviTHERM is dedicated to delivering accurate inspection solutions and peace of mind to its clients. Contact MoviTHERM today to learn more about their thermal seal inspection solution.