Event stresses benefits of offshore renewables for South West economy
South West companies attending the Offshore Energy Supply Chain Event, hosted by RWE and Regen SW at Sandy Park, Exeter, have been urged to target the offshore wind and marine energy sectors to develop new business opportunities and secure a share of this multi-billion pound industry.

Over 160 potential offshore-wind supply chain companies, including a large contingent from Devon, were told by industry insiders that now is the time to act if they are make the most of projects such as Atlantic Array and other offshore wind farms being built around the UK's coast. "This is a huge opportunity, driven by a massive offshore industry investment over the next decade" said Johnny Gowdy, director at renewable energy experts Regen SW. "The UK government has set the industry an ambitious target that 50 per cent of the expenditure for these projects should be sourced within the UK. For a project like Atlantic Array, that represents a £2 billion pound opportunity, but of course this is only going to happen if we have the right companies with the skills and capabilities to compete and win work."
Part of the growth will come if the UK is able to exploit its growing market size to attract major wind turbine manufacturers such as Siemens and GE Energy who both presented at the event. Although this is likely to be focused in the North East, where there are plans to establish large-scale manufacturing hubs on the Tyne and Humberside, the supply chain to supply component parts could reach into the south west with companies such as North-Devon-based Beran Instruments and TDK Lambda, which are well placed to win orders.
"It's not just the turbines" added Johnny. "To maximise UK jobs we need to look at all aspects of the supply chain from large components such as foundations and sub-stations; power systems and onshore infrastructure, right through to offshore and sub-sea operations and the support services associated with these large-scale infrastructure projects."
As well as hearing from some of the industry's leading companies, delegates also heard a number of success stories from south west companies such as Falmouth-based Large Diameter Drilling and Barnstaple based J&S who are already winning work in the sector. Both companies highlighted the importance of innovation and the ability to transfer capabilities developed in other industries to win work in the offshore energy sector.
Chris Napier, general manager at J&S said: "We know the offshore energy sector is looking for new solutions, whether it be to drive down costs, increase efficiency, or improve safety. At J&S we have been able to apply the skills and capabilities developed from our defense and oil and gas experience to offer new products such as our sub-sea electrical systems."
One of the companies that is already thriving in the growing offshore renewables industry throughout the UK and is looking to generate more business from the Atlantic Array is Offshore Marine Support Ltd. Director Andy Iannetta said: "Offshore wind is a huge opportunity, so we're making sure that we're in a prime position to take advantage. We started off as individual workboat owners, but as we have now diversified into a vessel co-operative this has enabled us to offer a more complete package. This gives us the critical mass and expertise to offer a variety of marine renewables services."
As well as a focus on innovation, south west businesses also heard about the importance of enhancing the region's skills base through the delivery of new renewable energy, engineering and marine-related courses at both Exeter and Plymouth university and technical colleges such as Petroc. Colin Wadsworth from Petroc College said: "We are already providing apprenticeship training in mechanical and electrical engineering and working with our industry partners Babcocks. It makes perfect sense for us now to include additional modules designed to support wind farm technicians both for our apprentices and for experienced personnel who want to develop new skills."
The Offshore Energy Supply Chain event is one of a number of initiatives being supported by wind farm developers RWE, working in partnership with Regen SW and local stakeholders including the Heart of the South West Local Enterprise Partnership, Devon County Council, North Devon and Torridge District councils. Earlier this month Regen SW launched its sixth edition of its South West Marine Energy and Offshore Wind Supply Chain Directory (http://goo.gl/Nuf3x).
Alistair Gill, head of offshore development, RWE said: "This event has been a great advert for the strength in depth within the south west supply chain. We are already working with a number of these companies on the Atlantic Array project and we look forward to working with many more both directly and through our supply chain partners as the project progresses."
About Regen SW
Regen SW is an independent not for profit company working to enable business, local authorities and other organisations to deliver renewable energy and energy efficiency and build a prosperous low-carbon economy in the south west of England. www.regensw.co.uk. Regen has more than 250 member organisations working in the field of renewable energy.
Featured Product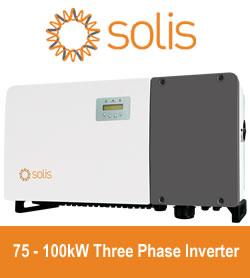 Solis75kW - 100kW series high-power string inverters are widely used in industrial and commercial rooftops. Solis's new three-phase string inverter is the first choice for industrial and commercial photovoltaics. 75-100kW three phase series string inverter have Maximum 28 strings input, support "Y" type connection in DC side. Maximum string input current 13A, support bifacial modules access.Supports anti-PID function to improve system efficiency.