Conference program keeps industry professionals connected, current and competitive
Washington, D.C., December 6, 2012 – On February 5, 2013, the solar energy industry descends upon

the Pennsylvania Convention Center in Philadelphia for three full days of educational sessions, idea sharing and networking. Presented by the Solar Energy Industries Association (SEIA) and the Solar Electric Power Association (SEPA), PV America East 2013 is expected to attract more than 4,000 solar industry professionals from the Northeast and Mid-Atlantic region to explore the latest in solar photovoltaic (PV) products, services and technology from more than 150 exhibitors.
The extensive and comprehensive conference program features a full slate of sessions to provide attendees with the knowledge needed to stay competitive in today's evolving marketplace. The sessions will address the hottest issues, opportunities and challenges facing the U.S. PV industry. Key topics include: developing and strengthening relationships and partnerships, managing project challenges, and identifying financial risks and expanding into niche markets.
This year's education program is highlighted by 28 concurrent sessions and four Solar Idea Swaps covering topics within six tracks: finance, policy, markets, innovations, working with utilities and solar multi-track. Speakers from the solar industry, along with thought-leaders in finance, utilities, and manufacturing will share their expertise and insights with attendees.
For the first time at PV America the North American Board of Certified Energy Practitioners (NABCEP) and Solar Energy International (SEI) are providing free PV technical training and resources for installers, salespeople and other solar energy professionals. The training takes place in booth 1301 which serves as the center for information on grid-tied systems (residential, commercial and utility), grid-tied with battery back-up systems, and stand-alone systems. The sessions are taught by subject matter experts and topics range from software to safety practices, maintenance and sales.
"The U.S. solar industry continues to show strong installed capacity increases— with much of the expansion in the Northeast—as well as nearly 15% growth in solar jobs, led by installers, sales and distribution and support services," said Rhone Resch, president and CEO of SEIA. "To continue this upward trend it is essential to stay up to date on all aspects of the industry. PV America East provides an unmatched marketplace of ideas, best practices, and innovative solutions, as well as updates on the latest policy changes and incentives impacting states in the region—all of which enables entrepreneurs to be both current and competitive."
"As a regional event, PV America East offers not only invaluable insights and expertise from our lineup of highly respected speakers, but also innumerable opportunities to connect with other attendees and exhibitors who understand the realities of unique local markets and face similar challenges," said Julia Hamm, president and CEO of SEPA. "Attendees can tap into the wisdom of experts and share ideas with peers from the region through Solar Idea Swaps sessions and at Solar Central, our gathering hotspot on the exhibit floor."
Concurrent Session Highlights
Finance
· How to Accelerate Financing for Solar Start-Ups: Launching a small solar business requires solid financial backing. Learn how to better position your solar start-up to secure the financing needed to success and grow a business in today's competitive market.
· Leveraging SRECs to Finance Your Solar Projects: Solar Renewable Energy Certificates (SRECs) dominate the Northeast solar market; however, terminology and qualifications can be complex and confusing. Learn about derivatives, swaps, vendor financing and other considerations to streamline steps and win SREC financing approval.
Policy
· Florida to Maine: Mastering Multi-State Solar Opportunities:Working in multiple state markets requires detailed knowledge of incentives across different jurisdictions. This session compares and contrasts key elements across state markets, such as SREC markets, RFP requirements and location and tax code regulations.
· Net Metering: Quantifying Benefits and Sharing Costs: Quantifying and communicating costs and benefits of solar and net metering in a way that drives policy is both challenging and critical. This panel discusses key factors in costs and benefits, methods to quantify and communicate them most favorably and those instances where cost-sharing is necessary.
Markets
· The Competitive Landscape and Future Opportunities in Residential Solar: While the residential solar market continues to grow, there remains a great deal of uncertainty tied to falling incentives, tumultuous SREC markets, and outdated sales strategies. As incentives scale back, which companies will carry on with efforts to advance in the residential solar marketplace? The panelists will share their thoughts and views on where the challenges lie for truly scaling residential solar in the U.S. and which companies and business models are best positioned to dominate this extremely fragmented space.
· Penetrating Niche Markets: Sports Teams, Nonprofits, Schools & Military: Looking to do business in a new niche market? Hear from buyers in the sports, scholastic and non-profit sectors about differentiators and deal-closers that helped them select a solar developer. Government officials and developers detail programs and practices for selling solar to GSA, DOD and other government agencies.
Featured Product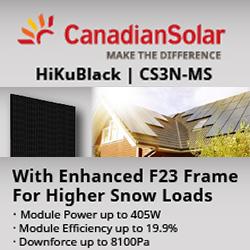 Aesthetic appearance for residential systems: With black backsheet & black frame, Power range 380 ~ 405 W, Low power loss in cell connection. Enhanced reliability: · Low temperature coefficient (Pmax): -0.34 % / °C, LID LeTID less than 2.0%, Lower hot spot temperature, Better shading tolerance.