The All-Energy team was in for a real surprise at the Scottish Green Energy Awards, as the show's Project Director, Judith Patten, co-founder of the event was awarded the 'Outstanding Achievement Award'.
ALL-ENERGY CELEBRATES SCOTTISH GREEN ENERGY AWARDS
All-Energy, the UK's largest renewable energy exhibition and conference, congratulates RWE npower renewables for their win in the All-Energy-sponsored 'Contribution to Supply Chain Development' award at the annual Scottish Green Energy Awards attended by a thousand guests in Edinburgh last night (6 December). No sooner had that award been presented, than the All-Energy team was in for a real surprise, as the show's Project Director, Judith Patten, co-founder of the event was awarded the 'Outstanding Achievement Award'.
The Contribution to Supply Chain Development award is designed to highlight the company that has contributed most to the growth of Scotland's constantly developing renewable energy supply chain, with nominations welcome from suppliers, developers and supporting businesses and agencies. In addition to the winners, AREG, East Coast Renewables, Gamesa, and SSE Highland Portal were all on the shortlist.
Since the start of 2010, RWE npower renewables (RWE NRL) has placed contracts with businesses in Scotland worth nearly £100 million. They are keen to encourage the use of local contractors wherever possible, as was the case with the construction of their recently opened Novar 2 Wind Farm in Ross-shire, where 81% of the civil works contract spend went to local businesses.
They are working with Highlands and Islands Enterprise and Scottish Enterprise to provide local businesses with the appropriate skills to capitalise on the opportunities available in the sector through a programme of "Meet the Buyer" events. These events are held for local and regional companies to explain the opportunities available, and give them the knowledge and understanding to position themselves effectively in the overall supply chain to the benefit of RWE NRL and other renewable energy companies. Over 70 representatives from companies incorporating a wide range of skills (construction, maintenance, operations, products and services) have been met by RWE NRL staff at these events to date, with plans for further events towards the end of 2012 and going into 2013.
They are also working with their procurement team to incorporate new data capture systems to help them establish how successful RWE NRL is in attracting local suppliers to bid for contracts and how successful they are in winning the contracts.
Award 'out of the blue'
"No sooner had Judith Patten made the award to RWE npower renewables, and in typical form reminded guests at the dinner that All-Energy 2013 on 22-23 May 2013 is where the supply chain will be meeting in Aberdeen in their thousands, than she found herself in total shock hearing her name announced as the winner of the 'Outstanding Achievement' award, sponsored by Aggreko," explains Jonathan Heastie, Exhibition Director, Global Group
Renewables and Alternative Energy of Reed Exhibitions Ltd.
"Sadly I was not at the dinner to see it, but I gather that – totally out of character - she was so stunned she was rendered silent. Thankfully that was short lived! The team, and I know a huge number of people within the renewable energy industry. congratulate her and thank her for all that she has brought, and continues to bring, to the show."
Judith Patten explains: "It was back in 2001 that David Stott and I staged the very first All-Energy, which attracted fewer than 50 exhibitors and total attendance of 350 – since then it has grown to the point when in May this year 8.322 from 49 countries attended, there were 580 exhibiting companies from 19 countries, and around 300 speakers in the conference and seminar programme.
"By 2000 when we started the planning for the inaugural All-Energy, David had retired from Spearhead Exhibitions, the company he founded, and at which he created the huge Aberdeen-based oil and gas show, Offshore Europe. I had the great pleasure of working with him for a quarter of a century in his Spearhead days, he is an inspiration.
"It was enormous fun to establish All-Energy with him, and to work closely with his son Paul of the Media Generation Group. Thanks to strong industry support we have certainly seen the show become extremely successful. It was sold to Reed Exhibitions in summer 2011. I am delighted to still be involved and see All-Energy go from strength to strength.
"There are so many individuals and organisations who have helped contribute to the success of All-Energy – the show is held in association with RenewableUK, Scottish Renewables, AREG (Aberdeen Renewable Energy Group), and UKTI, with the Society for Underwater Technology as its Learned Society Patron. Additionally it is supported by nearly 30 government departments, economic and community development agencies, trade associations and professional bodies. Each and every one of them plays a key role."
Full information on All-Energy 2013 is available at www.all-energy.co.uk with sections of the web devoted to exhibiting, the innovative sector-specific trails that have been established to benefit both exhibitors and visitors, and the Call for Papers for the conference, which closes on 20 December. Industry professionals can register their interest in visiting the event via www.all-energy.co.uk/register
ENDS
Featured Product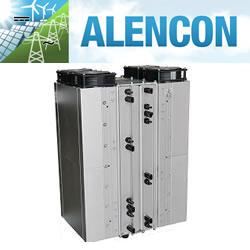 Alencon Systems is the premier manufacturer of high power, high voltage DC:DC optimizers for alternative energy applications including solar, battery energy storage, Microgrids, Fuel Cells and Electric Vehicle charging. Alencon's DC:DC converter offerings include the SPOT, BOSS and CUBE series DC:DC converters. The SPOT is a modular, uni-directional DC:DC solution ideal for solar applications. The BOSS is a modular, bi-directional unit for use with battery energy storage. The CUBE is a monolithic DC:DC converter which is available in both uni-directional and bi-directional modalities. Pictured above, is the Alencon SPOT.