BYD Energy Storage Station goes live in Doha during United Nations Climate Change Conference
DOHA, Qatar--This week, BYD announced the launch of a large 40-foot containerized Battery Energy Storage Station (ESS) in Doha, Qatar. The BYD ESS is part of a Solar Testing Facility whose ceremonial launch at the Qatar Science & Technology Park (QSTP) coincided with the Conference of the Parties to the United Nations Framework Convention on Climate Change (COP18) that was held in Doha, Qatar.

The QSTP is Qatar's first nationally-chartered free trade zone for commercializing technologies in four areas: Energy, Environment, Health Sciences, and Information and Communication Technologies and is located on over a 1,000-hectare campus in Doha. The GreenGulf and Chevron Qatar Ltd test facility where the BYD ESS is located is near a ~35,000 square-meter site located within the QSTP. This project is the first of its kind in Qatar to integrate 500 kiloWatt-hours (kWh) of energy storage with the electricity grid, solar power and back-up diesel generators, providing both on-grid and off-grid operation with black start, Voltage (VAR) and Frequency regulation. GreenGulf and Chevron selected BYD's Iron-Phosphate battery storage system for this commercial-grade project. It is the first chemistry of its kind that is completely environmentally-friendly and capable of meeting requirements for reliability in harsh climates, cycle and service life as well as many other broad performance requirements. The expected service life of the BYD Iron-Phosphate batteries is over 25 years. BYD has completed over 100 MWh of energy storage station projects around the world including Chevron's largest CERTS-based ESS in the United States.
The BYD containerized Energy Storage System is rated at 250 kW (300 KVa) and 500 KWh with nominal output voltage of 415 VAC at a frequency of 50Hz and is outfitted with environmental controls, inverters and transformers, all self-contained, in a 40 foot shipping container to provide stable power supply. The round trip efficiency of this 500KWh system was rated at 89% AC-DC-AC (with THD <3%).
Omran Hamad Al-Kuwari, CEO of GreenGulf stated, "BYD's AC-DC-AC round-trip-efficiency for their Half-Mega-Watt-scale Energy Storage Station is an interesting and potentially promising product and we look forward to testing the application at our state of the art facility." Carl Atallah, President, Chevron Qatar Ltd said in a public release about the test facility, "Chevron is committed to helping meet the world's energy needs, and to protecting people and the environment. This project supports Qatar's goal for energy sustainability through research into solar power and energy efficiency technologies and reinforces our commitment to sustainable development." "BYD has been delighted with GreenGulf and Chevron's leadership in the applications of renewable power coupled with environmentally-friendly energy storage, we were very glad they chose the BYD Iron-Phosphate batteries for this 500 KWh system" said Stella Li, BYD Senior Vice President. For more information, visit BYD at www.facebook.com/bydcompany and www.byd.com.
About BYD
BYD is ranked #1 at the top of Bloomberg's and BusinessWeek's 2009 Tech 100 List (http://www.businesswire.com/news/home/20100520006751/en/BYD-Tops-Bloomberg-Businessweek%E2%80%99s-12th-Annual-Tech) and is the leading manufacturer of advanced, environmentally-friendly battery technologies like the BYD's Iron Phosphate battery used in BYD electric vehicles and electric busses. BYD's solar panels and LED Lighting systems have CEC, TUV/CE and UL listings, and the company enjoys rapid growth in consumer electronics space and electrified transportation sector manufacturing under its BYD brand. BYD is the fastest-growing Chinese automotive and green energy technology enterprise. The Company trades on the Hong Kong Exchange (HKE) under the ticker numbers (HK.0285 – BYD Electronics) and (HK.1211 – BYD Company Ltd.), as well as on the Shenzhen Stock Exchange under the ticker number (002594 - BYD Company Ltd.). For more information, visit www.byd.com, www.facebook.com/bydcompany or email pr@byd.com.
Featured Product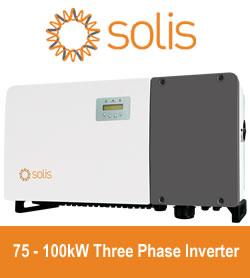 Solis75kW - 100kW series high-power string inverters are widely used in industrial and commercial rooftops. Solis's new three-phase string inverter is the first choice for industrial and commercial photovoltaics. 75-100kW three phase series string inverter have Maximum 28 strings input, support "Y" type connection in DC side. Maximum string input current 13A, support bifacial modules access.Supports anti-PID function to improve system efficiency.