Trade panel's report concludes Chinese import practices 'enabled subject importers to gain market share at the expense of the domestic industry'
WASHINGTON, D.C., Dec. 10, 2012 – Federal orders issued Friday activate final anti-subsidy and anti-dumping duty rates ranging from 24 percent to 255 percent on imports of Chinese crystalline silicon cells and panels since last spring. Moreover, any future Chinese imports entering the United States will be subject to reviews that could result in higher duty rates for those imports, according to the Coalition for American Solar Manufacturing (CASM).

The duty orders covering Chinese imports of solar cells and panels will remain in place for at least five years, but actual duty margins on any new imports will not be known for more than a year. That's because the U.S. Department of Commerce calculated its duty rates mostly on how much the Chinese industry's U.S. pricing fell below comparable, market-economy production costs during 2011, CASM said. The duty rates applying to new Chinese imports will be calculated beginning in late 2013. If pricing is found to have fallen faster than costs since 2011, which they markedly appear to have done, then the Department will increase duty rates retroactively on those imports, CASM said.
"We want there to be no confusion on this point: While the U.S. government has issued final duty rates to help offset China's anti-competitive trade practices, rates for imports arriving on American shores from now forward ultimately might well be higher," said Gordon Brinser, president of SolarWorld Industries America Inc., which submitted the trade cases with the support of CASM in late 2011. "It's a buyer-beware situation. Importing illegally subsidized and dumped solar products is a risky proposition."
Commerce's final orders direct Customs and Border Protection to enforce the trade remedies. CASM – a broad coalition of about 227 U.S. employers focusing on solar manufacturing, installation and financing – supported SolarWorld's cases. Commerce and the U.S. International Trade Commission (ITC), which adjudicated them, categorically affirmed CASM's contention that the Chinese government had illegally underwritten an export drive which undersold and materially injured the U.S. industry.
According to ITC's report on its final determination, "In sum, the significant and growing volume of low-priced subject imports from China competed directly with the domestic like product, was sold in the same channels of distribution to the same segments of the U.S. market, and undersold the domestic like product at significant margins, causing domestic producers to lose revenue and market share and leading to significant depression and suppression of the domestic industry's prices."
The report also said, "This underselling enabled subject importers to gain market share at the expense of the domestic industry."
The Coalition for American Solar Manufacturing, founded by seven companies that manufacture solar cells and panels in the United States, includes 227 employers of about 18,000 workers who have registered their support for CASM's case. The founding manufacturers have plants in nearly every region in the United States, including the Northwest and California, the Southwest, Midwest, Northeast and South and support several thousand U.S. manufacturing jobs. For details about CASM, go to www.americansolarmanufacturing.org; email media questions to media@americansolarmanufacturing.org; other questions or comments may be emailed to contact@americansolarmanufacturing.org.
Featured Product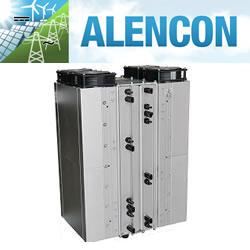 Alencon Systems is the premier manufacturer of high power, high voltage DC:DC optimizers for alternative energy applications including solar, battery energy storage, Microgrids, Fuel Cells and Electric Vehicle charging. Alencon's DC:DC converter offerings include the SPOT, BOSS and CUBE series DC:DC converters. The SPOT is a modular, uni-directional DC:DC solution ideal for solar applications. The BOSS is a modular, bi-directional unit for use with battery energy storage. The CUBE is a monolithic DC:DC converter which is available in both uni-directional and bi-directional modalities. Pictured above, is the Alencon SPOT.