The work ahead is far greater than what has been accomplished
ROCKVILLE, MD (December 11, 2012) -- While the last year has seen big new smart grid and smart metering developments -- and important activity and growth around the globe in modernizing and digitizing the electricity industry, the landscape is still very new. The work ahead is far greater than what has been accomplished but the benefits of deploying new technology have been seen and talked about more than ever by those firms and agencies with deployments underway.

"We have many systems currently in place that are being upgraded to handle the next-generation capabilities," Doug Kim, SoCalEd's director of advanced technology was quoted in the report. "As you see more intermittent resources and as you see our grid that was designed just to operate in a certain way, [it's] going through very much of a change."
"Strategic planning for our organization is more of a bottom-up than top-down," Vermont Electric Cooperative CEO Dave Hallquist told us. "That team identified cybersecurity as one of our key focus areas and for me that meant I had to learn what cybersecurity was. I think you can focus on cybersecurity and safety alone and all of your business will improve."
Smart Grid PIONEERS 2012 (http://www.smartgridtoday.com/pioneers2012) is a compilation of exclusive, behind-the-scenes and in-depth insight from over 75 field captains and technology experts making the smart grid a reality today. This 170-page industry report features over 75-interviews from these and many other smart grid pioneers: Southern California Edison Director of Advanced Technology Doug Kim, Cisco Global Manager for Strategy & Innovation Leo Von Prellwitz, GE Digital Energy GM of Grid Automation Juan Macias, SDG&E Director Lee Krevat, OPower VP of Strategy Ogi Kavazovic, control systems expert Joe Weiss, Verizon Managing Principal of Energy Security Ernie Hayden, Sacramento Municipal Utility District Smart Grid Project Manager Erik Krause and more.
"If there's a Northeastern seaboard storm outage that takes out [30 of 100 energy storage systems] and one of those happens to have been the master, the rest of the network -- the 70 systems that are there – can continue functioning and it can elect another master system," Greensmith CEO John Jung was quoted in the report. "We're applying that to the smart grid and distributed energy storage."
The interviews in this report provide a revealing body of knowledge that was created by the editorial staff of Smart Grid Today -- the independent, advertising-free voice of the smart grid industry. "We know now, more than ever, the professionals we serve need to rely on professional journalists to get the facts right. Smart Grid Today journalists are well versed in the electric industry and its inner workings and wise to the needs of the utility industry," said Sam Spencer, publisher of Smart Grid Today.
"In the 400-plus assessments I've done over the past couple of years, in every case we arrive at the facility and they tell us that they're 100% firewalled and that there's no direct connection between the operations network and the enterprise network," Next Generation Micro CEO Sean McGurk told us. "And in no cases has that ever been true."
Smart Grid PIONEERS 2012 includes a breadth and depth of information that only knowledgeable energy reporters, determined to find the story behind the story, can provide. It features actionable, detailed and thoughtful reporting written by and for people who understand that there are great challenges in regulatory processes, shareholder relations, interoperability of devices and systems, cybersecurity, the processing and acting upon huge volumes of data collected from the field, customer relations, internal friction between departments within utility companies and more.
"Every few months, they wanted more money from us," Layne Maxfield, electrical engineer for Idaho Falls Power told us about working with bankrupt battery maker Ener1. "They kept jacking the price up. It was a bait-and-switch every time we turned around. I was not impressed by how they did business."
But if done well, the deployment of computerized and networked technologies -- including smart meters, sensors, monitors and other distribution technology plus related gear such as demand controls, energy storage and renewables -- can deliver the same kind of revolutionary benefits that have been experienced by many other industries over the last half-century and beyond. Find out how over 75 industry experts are working to make it a reality today in Smart Grid PIONEERS 2012.
"I do think from a technology perspective we're going to learn a lot about our grid and being able to operate it much more closely to tolerance than ever before," National Grid VP Cheri Warren told us. "And that's going to pay dividends for customers across Massachusetts. By knowing exactly what we're experiencing on the system, we can change the way we design that system in the future."
Details about Smart Grid Today's Smart Grid PIONEERS 2012 exclusive industry report are available at www.smartgridtoday.com/pioneers2012 or by calling +1-301-769-6812 (1-888-637-7776 toll-free in US and Canada). Smart Grid Today Editor Brett Brune is available for interviews about this groundbreaking report.
About Smart Grid Today
Smart Grid Today's mission is to deliver daily, unbiased, comprehensive and original reporting on emerging trends, applications and policies driving the modern utility industry -- in a signature format that features highly concise and easy-to-understand news copy based on trusted reporting, exclusive interviews, informed analysis and strategic insights that our subscribers rely on to succeed every business day. Smart Grid Today is published 247 times a year by Modern Markets Intelligence, Inc. (MMI), publisher of independent trade news for the evolving energy industry of the 21st century. It is located in Rockville, Md. Sam Spencer founded MMI in 2009 after writing, editing, marketing, publishing, running and inventing trade news publications and related products over three decades.
Featured Product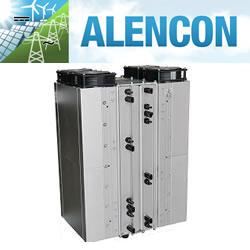 Alencon Systems is the premier manufacturer of high power, high voltage DC:DC optimizers for alternative energy applications including solar, battery energy storage, Microgrids, Fuel Cells and Electric Vehicle charging. Alencon's DC:DC converter offerings include the SPOT, BOSS and CUBE series DC:DC converters. The SPOT is a modular, uni-directional DC:DC solution ideal for solar applications. The BOSS is a modular, bi-directional unit for use with battery energy storage. The CUBE is a monolithic DC:DC converter which is available in both uni-directional and bi-directional modalities. Pictured above, is the Alencon SPOT.