City of Naperville and Verde Energy USA Launch Innovative Energy Storage Solutions Partnership
NAPERVILLE, Ill. and NORWALK, Conn., Dec. 13, 2012 /PRNewswire/ -- Verde Energy USA, a leading retailer of electricity, and the City of Naperville, Illinois, jointly announced today the launch of a clean energy efficiency demonstration project. This project, which involves the installation of a proven, clean energy storage system at Naperville's Water Service Center, 1200 W. Ogden Ave., will achieve energy efficiencies and reduce costs to the City of Naperville. The project will begin this month and continue throughout 2013, during which time Verde and the City of Naperville will collect data and share results.

As part of the partnership, Verde will invest the funds necessary to purchase and install Ice Energy's "Ice Bear"™ technology, an intelligent smart grid-enabled distributed energy storage system, at the Water Service Center at no cost to the City of Naperville. Through a partnership agreement with Ice Energy, Verde holds the right to distribute Ice Bear technology, which has been tested and proven by more than 50 investor and publicly owned utilities throughout North America.
The Ice Bear replaces conventional condensing units, a component of a typical building cooling system. Ice Bear shifts air conditioning electrical power demand to off-peak hours by using water to make ice at night, when the electric grid is generally unstressed. Then, during a hot summer day, when demand goes up and electric prices may be higher, the melting ice provides the cooling that otherwise would have to come from the air conditioner's compressor. The melted water is then recycled through the system when the process begins again the following night. The result is lower energy costs and increased electric grid reliability.
The City of Naperville was determined to be a perfect location for this technology thanks to the Naperville Smart Grid Initiative, an upgrade of the City's $360 million electric network to provide more efficient, cost-effective and reliable service to Naperville's utility customers and empower them with more information on their energy usage. More information about this project and corresponding benefits is available at www.naperville.il.us/smartgrid.aspx.
"This technology provides a perfect opportunity to achieve needed upgrades at our Water Service Center in a more energy efficient way," Naperville Mayor A. George Pradel said. "We are happy to serve as a model for other communities interested in sustainable clean energy solutions. The project also provides a great opportunity to realize one of the benefits of our smart grid initiative."
Thomas FitzGerald, Chief Executive Officer of Verde, said, "Building on Naperville's demonstrated commitment to using smart grid technologies, we are confident that this partnership will further benefit both the City and the environment, reducing high-cost peak electricity demand to improve energy system efficiency and grid reliability. It's a proven distributed energy storage technology, which our strategic partner, Ice Energy, has successfully deployed in hundreds of buildings across the country. We have an excellent track record in Illinois as a retail energy supplier, and this partnership with Naperville reflects our commitment to extend our energy solutions business throughout Illinois, with additional partnership agreements on state, regional and municipal levels."
For more information on the City of Naperville, visit http://www.naperville.il.us/. Sign up to receive the latest news on the City of Naperville's projects and initiatives via email at www.naperville.il.us/enews.aspx. For more information on Verde Energy Solutions, visit http://www.verdeenergyusa.com/.
About Naperville: Located 28 miles west of Chicago, Naperville, Ill., is home to approximately 145,000 people. This vibrant, thriving city consistently ranks as a top community in the nation in which to live, raise children and retire. The city is home to acclaimed public and parochial schools, the best public library system in the country, an array of healthcare options and an exceptionally low crime rate. Naperville has ready access to a variety of public transportation, housing and employment options. The city's diversified employer base features high technology firms, retailers and factories, as well as small and home-based businesses. Residents also enjoy world-class parks, diverse worship options, the opportunity to serve on several City boards and commissions, a thriving downtown shopping and dining area, a renowned living history museum known as Naper Settlement and an active civic community. For more information, please visit our website at www.naperville.il.us.
About Verde Energy Solutions: Verde Energy USA is a rapidly growing Retail Energy Supplier focused on the residential and small to mid-size commercial power markets. Through Verde Energy Solutions, its wholly-owned subsidiary, Verde aims to broaden and accelerate the adoption of state-of-the-art clean energy technologies. Headquartered in Norwalk Connecticut, Verde Energy USA has grown substantially since its market launch in November 2009. Currently servicing markets in Connecticut, New Jersey, Pennsylvania, Illinois and Ohio, Verde is strategically positioned for continued growth in new markets including New York, Massachusetts, and Maryland. For more information, visit www.verdeenergyusa.com.
About Ice Energy: Ice Energy delivers distributed energy storage and smart grid solutions that improve utility system efficiency and reliability. Strategically aligned with Verde, the company's smart grid platform integrates distributed energy storage technology with an advanced software infrastructure and intelligent two-way control to provide utilities with a powerful, cost-effective solution that fundamentally changes peak load management, and improves integration of intermittent, renewable resources onto the grid. By leveraging the higher efficiencies associated with generating and transmitting power off-peak, storing it at thousands of distributed locations, and dispatching it during times of peak demand, Ice Energy's distributed energy storage system represents a transformational new energy solution for the industry. Ice Energy, formerly based in Windsor, Colorado, recently relocated its headquarters to Glendale, California. For more information, visit www.ice-energy.com.
Featured Product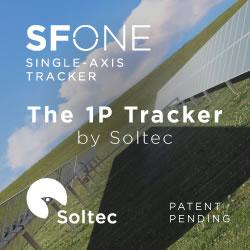 SFOne is the 1P single-axis tracker by Soltec. This tracker combines the mechanical simplicity with the extraordinary expertise of Soltec for more than 18 years. Specially designed for larger 72 an 78 cell modules, this tracker is self-powered thanks to its dedicated module, which results into a lower cost-operational power supply. The SFOne has a 5% less piles than standard competitor, what reduces a 75% the labor time.