Shows potential of Durathon™ battery in hybrid transportation----- Energy management technology provides effective approach to enable smaller, lower cost fuel cells for clean transportation----- Solution could eventually lead to electrification of buses, delivery trucks, and other heavy-duty vehicles
NISKAYUNA, N.Y.--Researchers at GE Global Research, the General Electric Company's (NYSE: GE) technology development arm, have achieved a first step in reducing the cost of clean fuel, zero emission buses, with a vehicle powered by GE's new Durathon™ battery in tandem with a lithium battery and a hydrogen fuel cell. This promising development of a new energy management system could help accelerate both fuel cell acceptance and electrification of bus fleets, delivery trucks and other larger, heavy-duty vehicle fleets enabling clean vehicle technologies. To see a video demonstration of the bus.

In 2010, the GE team first successfully demonstrated a dual battery system on a zero tailpipe emissions hybrid transit bus by pairing a high-energy density sodium battery with a high-power lithium battery. Now, two years later, further testing using GE's new Durathon™ battery has produced even better results. GE researchers believe that the kind of energy management architecture they're building will allow for a bus to operate at full performance with a significantly smaller fuel cell than previously possible. The fuel cell power plant represents a significant cost and GE's energy management system has the potential to bring down those costs by up to 50%.
"For years fuel cells have been talked about as a clean transportation alternative but cost has always been a roadblock to widespread adoption," said Tim Richter, Systems Engineer in the Electric Propulsion Systems Lab at GE Global Research. "With GE's battery technology and dynamic dual battery management system, we're starting to push that roadblock aside."
Richter added, "What we want to deliver is a cost-effective bus that emits no harmful pollutants."
The research is being done as part of a $13 million research project GE is engaged in with the Federal Transit Administration (FTA) and Northeast Advanced Vehicle Consortium, funded under the National Fuel Cell Bus Program.
"GE's Multi-Energy High Voltage Energy Management Technology releases vehicle designers from the traditional constraints of single battery configurations," Richter continued. "GE's Energy Management Technology combined with two or more batteries or energy devices allows GE to enable various power-to-energy configurations that match the vehicle needs. By leveraging the right battery to do the right job, overall system cost and efficiency can be improved."
Most types of batteries today come with a trade-off between power and energy storage. For example, lithium batteries, provide a lot of power for acceleration, but are not optimized to store energy for driving range. Sodium batteries, like GE's Durathon™, are on the opposite side of the spectrum. They store large amounts of energy, but are less optimized for power. GE's dual battery combines the best attributes of both chemistries into a single system. In the hybrid transit bus demonstration, the lithium battery focused on the high power acceleration and braking, while the Durathon™ battery provided an even electric power flow to extend the bus range.
Many of the 846,000 buses registered in the U.S. (including most of the 63,000 transit buses and 480,000 school buses) travel less than 100 miles per day. Enabling more of these buses to transition to a fuel cell-battery, zero emissions platform would dramatically reduce CO2 emissions and petroleum fuel consumption.
GE's Durathon™ batteries are produced at the company's start-up Energy Storage business in Schenectady, N.Y. which opened in July 2012. Starting next year, thousands of Durathon™ batteries will be shipped to the telecommunication market, enabling fuel efficiency improvements and emission reduction at diesel generator powered cell sites across Africa, the Middle East, and South East Asia, and providing reliable back-up power at cell sites which cope with intermittent supply of electricity from the grid. Another key market is the energy space, where this battery technology enables renewable power producers to meet stringent grid interconnection requirements, helps grid operators stabilize their grid and electricity users reduce their utilities bill by avoiding demand surcharges, and enables arbitrage. Future applications of the battery extend well beyond telecommunications and the grid to energy-efficient buses, locomotives and mining vehicles. Over the next few years, GE expects the Energy Storage business will produce $1 billion in annual revenues as orders for the new battery increase.
About GE Global Research
GE Global Research is the hub of technology development for all of GE's businesses. Our scientists and engineers redefine what's possible, drive growth for our businesses, and find answers to some of the world's toughest problems.
We innovate 24 hours a day, with sites in Niskayuna, New York; San Ramon, California; Bangalore, India; Shanghai, China; Munich, Germany; and Rio de Janeiro, Brazil.
Visit GE Global Research on the web at www.ge.com/research. Connect with our technologists at http://edisonsdesk.com and http://twitter.com/edisonsdesk.
Featured Product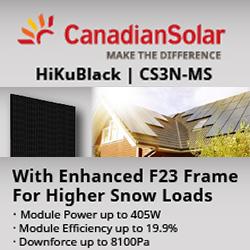 Aesthetic appearance for residential systems: With black backsheet & black frame, Power range 380 ~ 405 W, Low power loss in cell connection. Enhanced reliability: · Low temperature coefficient (Pmax): -0.34 % / °C, LID LeTID less than 2.0%, Lower hot spot temperature, Better shading tolerance.