285-Watt module combines maximum performance strength and highest quality components; high-wattage class reduces labor time and cost
Dublin (Georgia), December 14, 2012. – MAGE SOLAR, a turn-key provider of optimally coordinated PV system solutions, announced today that it has released a special high-wattage version of its signature MAGE POWERTEC PLUS module.

The new 72-cell 285 W polycrystalline module delivers the proven performance strengths that all MAGE SOLAR modules feature but with the bigger footprint also reduces labor time and therefore installation costs. Just like other modules from the MAGE POWERTEC PLUS product family, the module distinguishes itself with zero to +5 Watts tolerance for maximum power generation, meaning that it always performs at least at name plate value and in most cases above. Besides a 10 year product guarantee, the MAGE SOLAR PV-module also guarantees 90% for 12 years and an outstanding 30 years for 80% of its power output.
"With the newest high-wattage module our customers continue to get the reliable power output MAGE POWERTEC PLUS modules have, but on a completely new performance level," says Joe Thomas, President and CEO of MAGE SOLAR USA. "Combined with an almost unequalled long life cycle and minimal degradation it underscores our commitment to offering the highest quality PV products and services across the entire MAGE SOLAR portfolio."
Caption: The 285/6 PL MAGE POWERTEC PLUS high wattage module combines performance strength and reliability on an entirely new power level while reducing installation time. © MAGE SOLAR
We would appreciate sample copies of any reprints.
##############
MAGE SOLAR – The Sun on Your Side
MAGE SOLAR USA, headquartered in Dublin, Georgia, specializes in complete solar systems and provides high-quality photovoltaic modules, intelligent mounting systems and high-performance brand inverters. As a subsidiary of the international MAGE GROUP, it uses the Group's 40 years of know-how to develop optimally coordinated system solutions. A competent partner network guarantees profitable solar energy systems for customers throughout the Americas and in 21 more countries in Europe, Asia, Africa, and Australia. In 2011, the company generated U$280 in sales with around 180 employees.
www.magesolar.com
www.facebook.com/magesolar
www.twitter.com/mage_solar
www.linkedin.com/company/mage-solar-projects-inc
Featured Product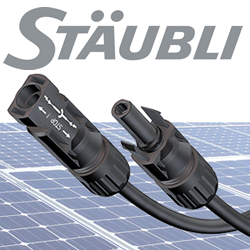 ​Stäubli Electrical Connectors are used on more than 300 GW, over 50% of the PV capacity worldwide. The MC4 family of UL and TUV listed products include connectors, in-line fuses, branch connectors, cable assembly and more.