Dr Bai Cui (on the right), of the Department of Materials Science & Engineering at the University of Illinois, receives the 2012 Professor Sir Richard Brook Prize for the Best Ceramics PhD in the UK, from Andrew Hosty (left), Chief Executive Officer of Morgan Ceramics.
The prize is sponsored by Morgan Ceramics and organized by the Centre for Advanced Structural Ceramics (CASC) at Imperial College London. It was presented to Dr Cui at Morgan Technical Ceramics site in Woodridge, New Jersey, for his study on Microstructural Evolution and Oxidation Behaviour of Spark Plasma Sintered MAX Ceramics, undertaken while at Imperial College London.

As well as a certificate and engraved glass award, Dr Cui received a cheque for £1,000. Dr Cui holds a PhD from Imperial College London, a BEng and MEng from Tsinghua University and is currently a Postdoctorate Research Associate at the University of Illinois at Urbana-Champaign.
Commenting on Dr Cui's PhD, the external examiner noted: "The experiments undertaken in this work were without doubt challenging. The analysis of the results is comprehensive and brings new understanding to this important topic area. Overall, the standard of the work presented is excellent."
Andrew Hosty commented: "As a global leader in ceramics, we have been delighted to sponsor the Brook Prize for a second year and offer our hearty congratulations to Dr Cui for his pioneering academic study. It is this type of work which is driving forward new uses for ceramics and ceramic-based materials across an ever broader range of industry sectors."
Dr Cui added: "It is a great honour to receive this award which is among the most prestigious in the field of ceramics research and development. Ceramics have a unique set of properties which suits them to a very wide range of applications and I look forward to continuing my research in this area of materials science."
For further information about Morgan Ceramics visit www.morganceramics.com. More information about CASC can be found at www.imperial.ac.uk/casc.
For further information, please contact:
Kristin Nugent +1-617-367-01011
Kristin.nugent@mgr1.com
Scott Bentley +44 (0)1299 827000
scott.bentley@morganplc.com
About Morgan Technical Ceramics
Morgan Technical Ceramics manufactures components and sub-assemblies using an extensive range of materials, including structural and piezoelectric ceramics, dielectrics, braze alloys, and specialist coatings. It works with manufacturers' design and R&D teams at local, national and international level on projects from concept and feasibility studies through prototype development to full production. The business employs some 2,500 people and has 23 manufacturing sites worldwide across Europe, the US, Mexico, China and Australia.
Morgan Technical Ceramics is a business within the Morgan Ceramics Division of The Morgan Crucible Company plc, one of the world's leading advanced materials companies. The company specialises in the design, manufacture and marketing of ceramic and carbon products which are used in a wide range of applications, from transport and telecommunications to fire protection and medical instruments. Morgan Crucible is listed on the London Stock Exchange in the engineering sector.
For more information on Morgan Technical Ceramics visit www.morgantechnicalceramics.com or contact one of our sales offices below:
Europe
Morgan Technical Ceramics, Bewdley Road, Stourport, Worcestershire, DY13 8QR.
Tel +44 (0)1299 872210 Fax +44 (0)1299 872218
Email mtcuksales@morganplc.com
North America
Morgan Technical Ceramics, 26 Madison Road, Fairfield, NJ 07004, USA
Tel +1 800 433 0638 Fax: +1 973 227 7135
Email mtcussales@morganplc.com
Asia
Morgan Ceramics
150 Kampong Ampat, #05-06A KA Centre, Singapore 368324
Tel +65 6595 0000 Fax +65 6595 0005
Email asia.mc@morganplc.com
Featured Product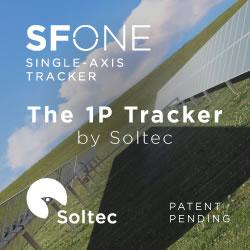 SFOne is the 1P single-axis tracker by Soltec. This tracker combines the mechanical simplicity with the extraordinary expertise of Soltec for more than 18 years. Specially designed for larger 72 an 78 cell modules, this tracker is self-powered thanks to its dedicated module, which results into a lower cost-operational power supply. The SFOne has a 5% less piles than standard competitor, what reduces a 75% the labor time.