Niagara Tunnel Project Nears Breakthrough
Mining on the Niagara Tunnel Project is nearing completion. Upon project completion, the tunnel will provide Ontario with enough clean, renewable hydro power for 160,000 homes annually for the next 100 years.

The massive 4,000-tonne boring machine, nicknamed "Big Becky", is currently tunneling under the City of Niagara Falls. Approximately 90 per cent of the machine's 10.2-kilometre journey has been completed. When the project is finished, the Sir Adam Beck Generating Station will increase its generating capacity by the equivalent of 200 MW. The project has employed over 230 full-time construction workers and brought approximately $1 billion in related investment into the region.
Ontario's Energy Plan: Building Our Clean Energy Future is investing in clean, renewable power sources such as hydro, solar, and wind. Niagara Falls has been a key supplier of electricity to Ontario for most of the last century - and with this project, it will continue to do so well into this century.
Ontario is planning for 9000 MW of hydro power by 2018. That's why bringing on new sources of clean energy like hydro electric power is part of the province's Open Ontario Plan to create jobs and strengthen our economy.
"The McGuinty government continues to make tremendous progress in bringing strength to an electricity system that relied heavily on coal. By investing in clean energy projects and increasing our hydroelectric capacity, we will create clean, reliable, and cost-effective electricity for generations to come," said Brad Duguid, Minister of Energy.
"Niagara Falls is already the Green Energy Capital of Ontario. The development of this project has created over 6000 person years of great green jobs and high-end employment, provided our economy with nearly a billion dollars of capital infusion. With the completion of this project we will have the safest supply of green energy anywhere," said Kim Craitor, MPP Niagara Falls.
"By generating more, clean, renewable power from Ontario's original electricity source - Niagara Falls - we are renewing the foundation of our prosperity," said Jim Bradley, MPP St. Catharines.
"This is a truly amazing project. Clean energy projects like the Niagara Tunnel are exactly what we as Ontarians need to supply our homes, and our businesses. It will provide water to generate low-cost, clean renewable power for a hundred years to come," said Tom Mitchell, President Ontario Power Generation.
QUICK FACTS
• In 2010 Ontario announced the largest hydro project in Northern Ontario in 40 years - the Lower Mattagami Hydro Project. It will add 440 MW of clean electricity and create 800 construction jobs in northeastern Ontario.
• Water power from Ontario's 200 hydroelectric facilities accounted for 20 per cent of the electricity generated in Ontario in 2010.
• Today, Ontario's waterpower producers directly employ more than 1,600 people and support an additional 2,000 jobs.
• In 2003, Ontario had 19 dirty polluting coal units and just 10 wind turbines, and no solar projects online. Today, the province has over 700 wind turbines, more than 2,900 solar projects and by 2014 all coal units will be closed or converted to biomass or natural gas.
• The new Ontario Clean Energy Benefit is helping Ontario families, farms and small businesses by taking 10 per cent off of all electricity bills for the next five years.
For more information, contact:
Ainsley Martin, Media Relations, Brand Marketing
Tel: 416-314-8704
E-mail: ainsley.martin@ontario.ca
Featured Product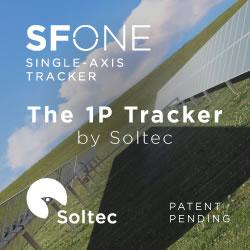 SFOne is the 1P single-axis tracker by Soltec. This tracker combines the mechanical simplicity with the extraordinary expertise of Soltec for more than 18 years. Specially designed for larger 72 an 78 cell modules, this tracker is self-powered thanks to its dedicated module, which results into a lower cost-operational power supply. The SFOne has a 5% less piles than standard competitor, what reduces a 75% the labor time.