Innovator in smart grid technology develops energy management application to address peak load issues----- Bosch Software Innovations' integrated business rules technology deployed in smart grid demonstration project in New York City
CHICAGO & NEW YORK--Bosch Software Innovations today announced that Visual Rules is used for an energy management solution to provide utilities with real-time status updates, decision aids and recommended options for load relief. The business rules product has been integrated into Green Charge Networks' GridSynergy™, which helps meet the growing demand for electricity in the United States by increasing the utility's asset utilization and reducing their capital expenditures.

Due to the growing population and economic growth as well as the increased presence of electric vehicles, grid reliability and efficiency are key concerns for utilities. In order to modernize the nation's electric grid, smart meters are being rolled out nationwide and internationally providing utilities with vast amounts of data. "Utilities are inundated with data from smart meters, distributed photovoltaic systems, and other network-enabled devices, in addition to historical usage data," says Vic Shao, Chief Technology Officer at Green Charge Networks. "The real challenge is how to put the data to work to create actionable intelligence in real time."
Being a central part of the energy management application, Visual Rules was primarily chosen for its unique graphical approach and its scalability and high-volume speed performance capabilities. "Visual Rules' intuitive user interface and runtime scalability made it our leading choice for the complex and data-rich Smart-Grid environment in which we specialize," says Shao. As part of a project on the New York City grid, rule sets, managed with Visual Rules, process massive amounts of real-time data and provide available options for strategically relieving peak loads for grid operators. In addition, the rules engine serves as the back end, which processes utility asset data to flag certain contingency conditions, and to suggest mitigation actions.
About Green Charge Networks
GCN, a leader in smart grid and energy storage technologies, develops and operates intelligent systems to accommodate local demand for electricity under existing generation and storage capacity restraints. Working with utility companies as well as public and private sector organizations, GCN is equipping the nation with advanced technologies to reduce energy spending and achieve increased efficiency. Green Charge Networks technology uses existing grid infrastructure and enables value adds such as electric vehicle (EV) charging.
Bosch Software Innovations GmbH, the software and systems house of the Bosch Group, globally designs, develops and operates innovative software and system solutions for the Internet of Things and Services. In this environment, we focus specifically in the areas of connected mobility, connected energy and facility management, connected industry and enterprises, and connected healthcare. With our core products, "Visual Rules Suite" for Business Rules Management and the "inubit Suite" for Business Process Management, we comprehensively support our customers and partners in developing and implementing new markets and business opportunities in the Internet of Things by linking functions and processes, services and devices. Bosch Software Innovations provides individual, customized solutions for financial institutions, financial service providers and industrial companies.
With about 450 employees currently, Bosch Software Innovations is globally represented with locations in Immenstaad, Waiblingen and Berlin, Germany; Chicago, Palo Alto, Washington D.C., USA; and Singapore.
More information can be found at www.bosch-si.com
The Bosch Group is a leading global supplier of technology and services. In the areas of automotive and industrial technology, consumer goods, and building technology, more than 300,000 associates generated sales of 51.5 billion euros in fiscal 2011. The Bosch Group comprises Robert Bosch GmbH and its roughly 350 subsidiaries and regional companies in some 60 countries. If its sales and service partners are included, then Bosch is represented in roughly 150 countries. This worldwide development, manufacturing, and sales network is the foundation for further growth. Bosch spent some 4.2 billion euros for research and development in 2011, and applied for over 4,100 patents worldwide. With all its products and services, Bosch enhances the quality of life by providing solutions which are both innovative and beneficial.
Further information is available online at www.bosch.com and www.bosch-press.com
Featured Product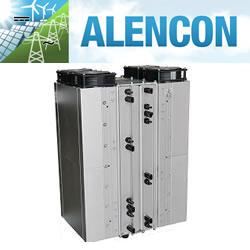 Alencon Systems is the premier manufacturer of high power, high voltage DC:DC optimizers for alternative energy applications including solar, battery energy storage, Microgrids, Fuel Cells and Electric Vehicle charging. Alencon's DC:DC converter offerings include the SPOT, BOSS and CUBE series DC:DC converters. The SPOT is a modular, uni-directional DC:DC solution ideal for solar applications. The BOSS is a modular, bi-directional unit for use with battery energy storage. The CUBE is a monolithic DC:DC converter which is available in both uni-directional and bi-directional modalities. Pictured above, is the Alencon SPOT.