Braemar Energy Ventures leads round; Cultivian Ventures and Middleland Capital join as new investors in the company
EWING, N.J.--Proterro, Inc., the only company making sugar instead of extracting it from crops, has closed on a $3.5- million financing round led by current investor Braemar Energy Ventures.

Cultivian Ventures and Middleland Capital joined as new investors, with other existing investors, Battelle Ventures and its affiliate, Innovation Valley Partners, also participating in the round.
"What's holding back the adoption of biofuels and biobased chemicals is the high cost of producing and delivering feedstock today," said Ron Meeusen, Cultivian's founder, who joins the Proterro Board of Directors.
"From day one Proterro has made breaking that cost barrier its mission and its disruptive technology has already consistently shown the potential to make low-cost sugar a reality – giving the industry the boost it needs," Meeusen continued, explaining why Cultivian decided to invest in the company. "Proterro stands out for its unique approach to meeting the biggest challenge facing this marketplace today."
"Proterro's novel process for developing sucrose differentiates the company from all other approaches, which extract sugars from biomass," echoed Bill Lese, managing partner at Braemar Energy Ventures.
"The company has made tremendous progress and this financing will help propel it further, into a new phase of development," Lese added, noting that Proterro received a notice of allowance from the United States Patent and Trademark Office on a cornerstone composition of matter patent protecting the company's unique, engineered sucrose-producing cyanobacteria and their genetic code.
"This capital infusion will support our continued work on optimizing the genetic engineering of the microorganism and adding to our patent portfolio," said Proterro CEO Kef Kasdin. "The funds also will enable us to accelerate the path to business partnerships, through piloting a full-scale photobioreactor and completing designs for our demonstration-scale facility," she explained.
About Proterro
Proterro is the only company that makes sucrose instead of extracting it from crops. Proterro combines its core "microorganism technology" with its patent-pending, high-density, modular, solid-phase photobioreactor for scalable production of the only non-crop-based, noncellulosic, clean sucrose that avoids the pricing volatility associated with corn and other feedstock markets. The company projects it can produce its sucrose at a cost of less than $.05/lb., which is far less than sugarcane, corn, other energy crops, or cellulosic sugar approaches. The company was recognized as one of the top 10 innovative companies during Q4 2011 by Lux Research, which said the company stood out for its "disruptive potential." Proterro CEO Kasdin has been named one of the top 100 people in bioenergy and one of the top 10 influential women in the biofuel business. Proterro's leadership team includes advisors with extensive experience from BP, Cargill, Gevo and Solazyme. For more information, please visit www.proterro.com
Featured Product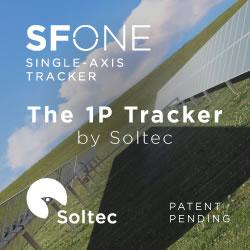 SFOne is the 1P single-axis tracker by Soltec. This tracker combines the mechanical simplicity with the extraordinary expertise of Soltec for more than 18 years. Specially designed for larger 72 an 78 cell modules, this tracker is self-powered thanks to its dedicated module, which results into a lower cost-operational power supply. The SFOne has a 5% less piles than standard competitor, what reduces a 75% the labor time.