WATT Fuel Cell Corp., a designer and developer of solid oxide fuel cell (SOFC) systems, announces the award of a six-month $100,000 grant from the New York State Energy Research and Development Authority (NYSERDA).
PORT WASHINGTON, N.Y., December 18, 2012 – WATT Fuel Cell Corp., a designer and developer of solid oxide fuel cell (SOFC) systems, announces the award of a six-month $100,000 grant from the New York State Energy Research and Development Authority (NYSERDA). The funding will be used to asses the energy savings associated with the company's proprietary process for manufacturing micro-tubular SOFCs.

According to WATT Fuel Cell director of technology Ben Emley, the new "Single-Step Process," or SSP, enables the company to produce reliable, high-quality SOFC components on a mass scale and at a lower cost than industry competitors. "SSP eliminates the need for multiple production steps, decreases capital equipment requirements and reduces the overall energy necessary to make the finished product," said Emley.
"Focusing on product designs and technology platforms that lend themselves to production at a realistic cost, and which operate on fuels that the consumer can easily purchase, is key to the future success of both the company and the industry at-large," said Dr. Caine Finnerty, WATT Fuel Cell president. "Refining and employing the SSP will enable us to improve the overall performance of our system while substantially reducing cell manufacturing costs, which equates to a win-win for WATT and the consumer."
According to Finnerty, establishing WATT Fuel Cell's research and production facilities in New York State has buttressed the company's growth in numerous ways, including by providing access to NYSERDA funding.
"Locating WATT on Long Island has served us well on several fronts, and we've undoubtedly benefited from the support of local politicians who recognize that growing our company here translates into more 'green collar' jobs for the region," Finnerty said. "We are also fortunate to be able to capitalize on local resources at Stony Brook University and Brookhaven National Laboratory, while additionally being able to connect with a healthy investor base here."
NYSERDA provided funding to WATT Fuel Cell through its Innovation in the Manufacturing of Clean Energy Technologies program. The intent of this program is to assist manufacturers of clean energy technologies in New York State in using less energy in their production processes, while also enhancing the viability of the clean energy tech sector in the state.
"NYSERDA is promoting not just clean energy technology itself, but the ability for a manufacturer to develop new technology more efficiently," said Francis J. Murray Jr., NYSERDA president and CEO. "Projects such as this one underscore Governor Cuomo's strong support of innovative clean energy technology that benefits local communities by stimulating economic development and job creation."
"WATT Fuel Cell is working toward an impressive green technology that will be an asset to New York State, both economically and environmentally," said Senator Jack Martins, member of the New York State senate, representing the 7th district located in Nassau County, New York. "WATT Fuel Cell is committed to bringing clean and green, commercially viable energy solutions to the marketplace and they're doing it right here in Port Washington. Through WATT Fuel Cell's efforts, New York State and Long Island will continue blazing the trail for clean energy technology."
WATT Fuel Cell Corp. (WATT) is a clean-tech company located in Port Washington, N.Y. With a wide range of capabilities including the fabrication of materials, components and sub-assemblies to support state-of-the art solid oxide fuel cell (SOFC) technology, WATT focuses on reliability, cost and fuel flexibility. The company uses a refined additive manufacturing "CORE" (Cost-Optimized, Reliable-Energy) process that enables WATT to lead the industry in cost-effective scale-up and manufacturing.
For additional information, visit www.wattfuelcell.com or email info@wattfc.com.
-# # #-
Featured Product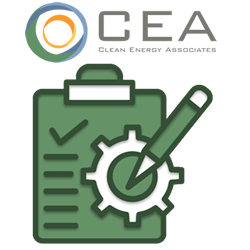 Clean Energy Associates provides a complete quality assurance solution that covers the entire product lifecycle of PV modules, storage systems, and every Balance of Sy stem (BOS) component. CEA's experienced on-the-ground and international team of quality control engineers and account managers offer an unparalleled quality assurance presence that can protect solar and storage investments and ensure future energy-producing viability for the life of the product.