WIRSOL and Greenpower Capital form Joint Venture for funding Mega-Solar Projects
Tokyo, Japan / 29 November 2012---WIRSOL and Greenpower Capital have

announced a Joint Venture to provide project finance, EPC and O&M for the
Japanese feed-in-tariff market. All services are tailor-made to fit Mega-Solar PV
projects of 10 megawatts and higher.
"Project finance is the bottleneck for mega-solar projects in Japan"
"We're excited to bring our 10 years of experience and our track record of 450
megawatt world class projects to Japan", said Stefan Riel, co-founder and
Member of the Executive Board of WIRSOL.
The company is among the key players of Germany's national energy transition which is aiming at having 80% of its electricity coming from renewable sources by 2050. Riel, who is in charge of the markets in Asia/Pacific, identifies project finance as the bottleneck right now: "Both the Japanese and the German PV markets demand for the highest system quality and best performance. Teaming up with Greenpower Capital will allow us to partner with local developers to build mega-solar projects in Japan."
Yoichi Katayama: "The Greenpower WIRSOL alliance is being well received
by local Japanese solar developers."
Creating a solution for project finance will bring a new dynamic to the renewable market: "The Greenpower/WIRSOL alliance is being well received by local Japanese solar developers. We are very pleased to be working with these
experienced professionals", states Yoichi Katayama, head of the renewable
energy practice for Orrick, Herrington & Sutcliffe, LLP.
"Together we will work on developing the solar sector to its full potential."
Jeff Butler, President of Greenpower Capital, stated "We have been involved with project finance in the USA, Ontario, Puerto Rico, Dominican Republic, UK and other feed-in-tariff markets." Establishing an office in Japan was the natural
progression: "We have found that project finance for plants larger than 10
megawatts can be very difficult to obtain in Japan. Together we will work on
developing the solar sector to its full potential."
WIRSOL and Greenpower Capital will be exhibiting at the PV Japan 2012
conference in Tokyo Dec. 5-7 (Booth N° P09/410), and the Japan PV Expo in
Feb. 2013.
About WIRSOL
WIRSOL is an international green energy provider and specialized in the
planning, financing, construction and maintenance of solar power plants of all
sizes and onshore wind power stations. Pioneering the field of renewable
energies, WIRSOL combines classic German engineering with custom-made
financial solutions. WIRSOL E-Motion completes the range of services by
promoting products and integrated concepts of electric mobility. WIRSOL is
based in Germany with company offices throughout the world, including Tokyo.
Visit www.wirsol.com/de for further information.
About Greenpower Capital
Greenpower Capital is a renewable energy advisory firm based in Los Angeles,
with offices in Toronto and Tokyo. Greenpower focuses on project finance and
Merger and Acquisition for solar and wind projects in Europe, North and South
America, the Caribbean's, and now Japan. Greenpower Capital provides early-
stage development capital as well as assists developers with their financing and
strategy needs for equity and debt for 'construction-ready' wind and solar
projects. Visit www.greenpowercap.com for further information.
Contact Japan:
Michiaki Takasaki
Greenpower Capital Japan
michiaki.takasaki@greenpowercap.com
phone [+03] 3582-5391
Contact USA:
Jeff Butler
Greenpower Capital
jeffbutler@greenpowercap.com
phone [+001] 818 668 3100 ext. 501
Website: www.greenpowercap.com
Featured Product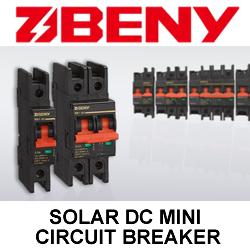 The BB1-63 modular miniature circuit-breakers can be used in solar DC circuits up to 1200 VDC (4-poles execution). Application in solar DC circuits, battery energy storage systems and UPS. Arc flash barrier design keeps solar equipment more safe and reliable. For DC circuit over-current protection.