Solar Power Advances Farming Practices and Promotes Sustainable Methods of Energy Generation, Food Production and Crop Protection
ROCK HALL, Md., Dec. 7, 2012 – Today, DuPont celebrated the installation of a 200 kilowatt solar array at Harborview Farms, one of the largest agriculture operations in Maryland. The 10,000-plus acre farm exemplifies cutting-edge management practices and key collaborations between DuPont Photovoltaic Solutions, DuPont Pioneer, and DuPont Crop Protection to provide sustainable solutions for food, energy and environmental protection.

"Renewable energy is a fast growing part of the global energy mix, and solar power in particular is more affordable today than ever before," said David B. Miller, president, DuPont Electronics & Communications. "Solar power, together with sustainable farming practices – such as the use of specialized seed, advanced crop protection, nutrient and pest management, utilization of cover crops, and the implementation of sustainable planting and harvesting methods – provides great potential to boost crop yields and energy savings for farmers. This installation demonstrates the active commitment DuPont has to sustainable energy, sustainable agriculture and collaboration with the farming community on innovative solutions to feed and power the world."
Harborview Farms is operated by Trey and Cheryl Hill with Trey's parents, Herman and Christy Hill. They produce corn, wheat and soybeans for the poultry industry of Delmarva and the baking industry of southeast Pennsylvania. In the winter, Harborview Farms features cover crops to improve soil quality and control erosion, including radishes and barley. The mission of Harborview Farms includes sustainable agriculture – and the solar panel installation is just the latest example of what the Hill family is doing to embrace and exemplify responsible farming practices that benefit the environment, the community and future generations. Best management practices and integrated pest management are utilized fully to ensure optimum productivity and protection of the environment while contributing to the restoration of Chesapeake Bay.
When Trey Hill learned about DuPont Photovoltaic Solutions and the proven reliability of its DuPont™ Tedlar® polyvinyl fluoride (PVF) films, he specified the material in the solar panels he installed at Harborview Farms. Tedlar® polyvinyl fluoride film-based backsheets provide solar panels with superior protection against the elements even beyond their expected 25-year lifetime. Under normal, as well as extreme ultraviolet and damp heat exposure, Tedlar® film-based backsheets have been proven to resist delamination, yellowing and degradation that compromise other backsheet materials. The modules for Harborview Farms were manufactured by Motech Industries, Inc., and Smuckers Energy, LLC designed and installed the array.
"Sustainability requires partnerships," said Hill, partner, Harborview Farms. "DuPont has worked with us for many years to understand our needs and to deliver innovative technologies for sustainable agriculture that are appropriate for the local community. Our solar installation is just the next step toward the future of farming."
DuPont (NYSE: DD) has been bringing world-class science and engineering to the global marketplace in the form of innovative products, materials, and services since 1802. The company believes that by collaborating with customers, governments, NGOs, and thought leaders we can help find solutions to such global challenges as providing enough healthy food for people everywhere, decreasing dependence on fossil fuels, and protecting life and the environment. For additional information about DuPont and its commitment to inclusive innovation, please visit www.dupont.com.
Featured Product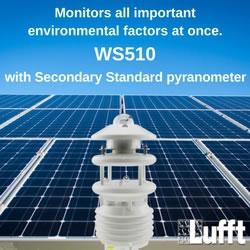 Professional weather sensors form the heart of large solar plants supporting their operation and performance. Lufft was the first manufacturer to combine several sensors in one housing, bringing the largest multiparameter weather sensor family with 19 members into being. Many of them are well-suited for solar site assessment and continuous monitoring. The most commonly used one is the WS600 delivering data on temperature, air pressure, wind, relative humidity and precipitation. Through its open protocol, it can easily be attached to radiation sensors e.g. from Kipp&Zonen. Other models have an integrated Silicon, Second Class or Secondary Standard radiation sensor.