1.1 MW facility by Clean Energy Collective and San Miguel Power Association provides locally-produced clean energy to anyone in utility territory
CARBONDALE, Colo. (December 19, 2012) Rural electric cooperative San Miguel Power Association, Inc. (SMPA) and solar garden pioneer Clean Energy Collective (CEC) announced the official opening of the San Miguel Power Association Community Solar Array. The 1.1 MW facility located in southwestern Colorado becomes the largest community-owned solar facility in the country, serving more than 200 individual ratepayers throughout the utility territory.

According to CEC founder and CEO Paul Spencer, today's milestone proves that the accessibility and affordability of the community-owned, utility-scale model is moving the needle on solar adoption. "We are leveraging scalability to the benefit of individual panel owners," he explains. "You don't even need a roof to adopt clean energy today, and the paybacks are higher than ever – both for the environment and financially."
The SMPA Community Solar Array is located on seven acres in the northwest corner of Paradox Valley along U.S. Highway 90, about 15 miles west of Naturita, Colo. Customers in the SMPA territory will purchase individual panels for $705, net of rebates from SMPA. Customer can purchase as few as one panel or enough to offset 100% of their electricity needs, and receive credit for the power produced directly on their monthly utility bills. The price includes the same tax credits and electricity discounts as they would if the panels were installed on a customer's roof, and CEC maintains the panels for 50 years so consumers don't have the construction, maintenance or repair concerns of a home-sited system.
"We are very proud to be implementing the nations' largest community solar program in partnership with CEC, and provide an option to all of our members to receive up to 100% of their electrical needs from local, clean, and renewable sunshine," comments Brad Zaporski, SMPA's Manager of Energy/Member Services and Marketing.
The announcement coincides with the release of Solar Market Insight, the latest report published by GTM Research and the Solar Energy Industries Association (SEIA), which showed photovoltaic (PV) installations in Q3 2012 grew by 44% over the same period last year.
In addition to the SMPA Community Solar Array, CEC has partnered with six other utilities and has 14 shared solar projects operating or under construction, representing more than 5,300 kW of community-sited solar PV. By the end of 2013, Spencer estimates CEC's community-owned arrays will be providing upwards of 10 MW of energy capacity, with that number eclipsing 100 MW nationally by 2015.
Those interested learning more can contact CEC at (800) 646-0323 or sales@smpasolar.com, or visit www.smpasolar.com.
About Clean Energy Collective (CEC)
Colorado-based Clean Energy Collective is a developer of community-based renewable energy facilities and a national leader in community power generation. CEC pioneered the model of delivering clean power-generation through large-scale facilities that are collectively owned by participating utility customers. The CEC's proprietary RemoteMeter® system automatically calculates monthly credits and integrates with existing utility billing systems, enabling all utility customers to easily have clean, renewable power credited directly on their monthly utility bills, without modifying their home or office. www.easycleanenergy.com
Featured Product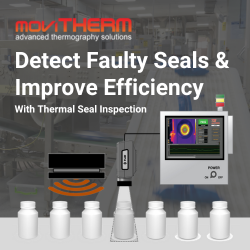 MoviTHERM's Thermal Seal Inspection (TSI) solution provides precise and reliable detection of defects in a variety of packaging types, including pouches, bags, blister packs, bottle caps, and more. By detecting defects in your packages, the TSI solution helps increase efficiency in your production line and ensures top-quality packaging is delivered to your customers every time. With state-of-the-art technology and an experienced team, MoviTHERM is dedicated to delivering accurate inspection solutions and peace of mind to its clients. Contact MoviTHERM today to learn more about their thermal seal inspection solution.