First Wind supports teachers and their innovative classroom projects around the country
BOSTON--Since expanding community outreach programming earlier this year, First Wind, an independent U.S.-based wind energy company, has partnered with teachers in 35 local classrooms within the company's host communities to make contributions toward local education projects. First Wind established a strategic partnership with DonorsChoose.org earlier in the year to enhance the company's community giving in locations where First Wind develops and operates wind energy facilities.

Through the DonorsChoose program, First Wind supports teachers and their innovative classroom projects around the country. Since beginning its DonorsChoose program this year, First Wind has funded 35 projects at some 30 schools that will reach and positively touch nearly 1,200 students. For instance, First Wind donated funds toward a project to help buy musical instruments for a classroom in Haleiwa, HI, which is near the Kawailoa Wind project on Oahu. First Wind also donated funds this spring to a classroom in Lyndonville, Vermont, which is near its Sheffield Wind project, to help students with their writing skills.
"As we continue to grow, First Wind is committed to being an active community member," said Carol Grant, senior vice president of External Affairs for First Wind. "This program starts with the good idea of a teacher in one of our communities. Our contribution is to support that idea and help bring it to life. We're glad to have a small part in helping these teachers and their students."
First Wind has donated to classrooms in or near many of the communities where it has projects, including Sheffield and Lyndonville, VT; Machias, ME; Cedar City, UT; Eastern Washington; Boston, MA; Kahuku, HI and other communities.
Some examples of supported projects include:
*A donation to be used to purchase safety goggles, magnifying glasses, and other hands-on science supplies for an Earth Science and Physics class for first graders at the Sunset Beach Elementary School in Haleiwa, HI.
*A donation to the Rose M Gaffney Elementary School in Machias, ME to help upgrade the classroom, including replacing old and worn flooring for young, pre-kindergarten children ages 4-5.
*At Lyndon Town Elementary School in Lyndonville, VT, there was a request for donations to help build a passion for reading among one teacher's classroom of 9-year-olds. First Wind's donation helped to purchase more higher-interest books for her classroom.
*At the Cave Hill Elementary School in Eastbrook, ME, a teacher sought to help her students tell their stories not just with pen and paper, but also with photos and video. First Wind's contribution helped buy cameras and other equipment for the class.
*At Iron Springs Elementary School in Cedar City, UT, First Wind contributed to a project to help fund for a new computer in a classroom.
"Thank you so very much. You have made such a difference in our learning. We look forward to sharing with you all that we can do with our new space! You are our Holiday miracle!" wrote Mrs. Scribner of Gaffney Elementary School in Maine on the First Wind DonorsChoose web page.
Visit First Wind's DonorsChoose.org page at http://www.donorschoose.org/firstwind.
About First Wind
First Wind is an independent wind energy company exclusively focused on the development, financing, construction, ownership and operation of utility-scale wind projects in the United States. Based in Boston, First Wind has wind projects in the Northeast, the West and Hawaii, with combined capacity of 980 megawatts (MW) – enough to power almost 300,000 homes each year. For more information on First Wind, please visit www.firstwind.com or follow us on Twitter @FirstWind.
About DonorsChoose.org
Founded in 2000, DonorsChoose.org is an online charity that makes it easy for anyone to help students in need. Public school teachers from every corner of America post requests, and individuals can give directly to the ones that inspire them. To date, 230,000 public and charter school teachers have used DonorsChoose.org to secure $117 million in books, art supplies, technology, and other resources that their students need to learn.
Visit www.donorschoose.org/intro to hear Oprah Winfrey and Stephen Colbert tell the DonorsChoose.org story.
Featured Product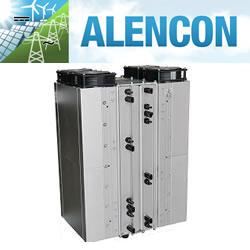 Alencon Systems is the premier manufacturer of high power, high voltage DC:DC optimizers for alternative energy applications including solar, battery energy storage, Microgrids, Fuel Cells and Electric Vehicle charging. Alencon's DC:DC converter offerings include the SPOT, BOSS and CUBE series DC:DC converters. The SPOT is a modular, uni-directional DC:DC solution ideal for solar applications. The BOSS is a modular, bi-directional unit for use with battery energy storage. The CUBE is a monolithic DC:DC converter which is available in both uni-directional and bi-directional modalities. Pictured above, is the Alencon SPOT.