North Carolina builder is the latest to join Southern Energy Management's ecoHOME program.
APEX, NC - Triangle-area builder Stanton Homes is now offering full ecoHOME certification in every custom home that the company designs and builds.

"We are very pleased to offer ecoHOME to our custom homebuyers as a standard feature," said Stan Williams, CEO of Stanton Homes. "Certification from ecoHOME provides additional assurance that your custom Stanton Home will be extremely energy efficient, with more comfort and lower energy bills."
The ecoHOME program was developed by Morrisville-based Southern Energy Management (SEM), a leader in the solar and energy efficiency industry with more than 10 years of experience in green building. The program is endorsed by the Residential Energy Services Network (RESNET) as one of only six "RESNET EnergySmart Programs" in the nation.
"By including ecoHOME as a standard feature in all of its custom homes Stanton Homes is further demonstrating to its customers their commitment to energy efficiency and quality assurance, certified by third party experts," said SEM Building Performance Project Coordinator Sam Burner. "These measures will go a long way in ensuring homeowners that their new homes have very high standards – and that they'll save on energy bills, too."
The ecoHOME program uses the nationally recognized Home Energy Rating System (HERS) Index established by RESNET. Certified raters score every home on a variable scale, with a score of zero representing a home that uses no energy, 100 being equivalent to a home built to the 2006 International Energy Conservation Code, and 130-150 being a typical home built 10-15 years ago. Visual inspections combined with blower door and HVAC system duct leakage tests by an outside third party confirm that the home is healthy, comfortable and efficient. A home with a HERS score of 75 is 25% more efficient than a home with a HERS score of 100, and twice as efficient as a home with a HERS score of 150.
The average ecoHOME earns a HERS score of 75 or lower, and each score is paired with a set of common sense efficiency upgrades like advanced air sealing, programmable thermostats and WaterSense water fixtures.
"One of our favorite features of ecoHOME is that it gives us the freedom to meet requirements in the most cost-effective way for our specific local climate conditions," said Williams. "With this certified system, we implement energy saving initiatives that are appropriate to North Carolina – not North Dakota."
Since ecoHOME's official launch in mid-2012, more than 250 homes across North Carolina have already earned certification. Details of the ecoHOME program can be found at www.stantonhomes.com/ecoHOME.aspx, which helps homebuyers understand the benefits of purchasing and living in an ecoHOME.
Media Contacts:
Penny Hull, Stanton Homes: pennyh@stantonhomes.com or (919) 278-8070
Chris Cowperthwaite, SEM: chris@southern-energy.com or (866) 575-9151
About Stanton Homes:
Stanton Homes builds extraordinary custom homes across central North Carolina, on our lot or yours, with outstanding craftsmanship, top quality materials, and a Price Match Guarantee. Our industry experts will help you find, modify or design a custom home you'll love to live in, with free initial design services from our architectural and interior designers. Stanton Homes is an industry-leading builder of traditional, universal design, fully accessible, certified green, geothermal and energy saving homes – with some of the best guarantees in the business. Contact us at 919-278-8070 or visit www.StantonHomes.com.
About Southern Energy Management:
Southern Energy Management is a North Carolina-based sustainable energy company offering energy efficiency, green building and turn-key solar services for homeowners, builders, and business owners across the Southeast and Mid-Atlantic. A certified B Corp, SEM's two-part mission is to improve the way people make and use energy and to build a prosperous company that supports people and the planet. SEM was founded in a living room in Raleigh in 2001, and is now consistently recognized as an industry leader both locally and nationally. Its ecoHOME program won the 2012 Triangle Business Journal Clean & Green Award for Entrepreneurial Effort/Innovation Idea. SEM is among a small handful of companies in the U.S. to earn the national 2012 ENERGY STAR Sustained Excellence Award for being named Partner of the Year six consecutive times. SEM was named a CED NC Company to Watch in 2011 and received the 2011 City of Raleigh Environmental Stewardship. For more information, visit www.southern-energy.com.
Featured Product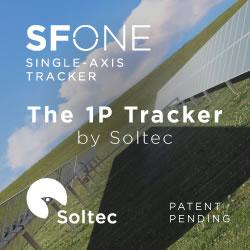 SFOne is the 1P single-axis tracker by Soltec. This tracker combines the mechanical simplicity with the extraordinary expertise of Soltec for more than 18 years. Specially designed for larger 72 an 78 cell modules, this tracker is self-powered thanks to its dedicated module, which results into a lower cost-operational power supply. The SFOne has a 5% less piles than standard competitor, what reduces a 75% the labor time.