With repayment, gains access to cash flow from the plant, improves durability in marketplace
AMES, Iowa--Renewable Energy Group (NASDAQ: REGI) today announced that it paid off long-term debt obligations of its operating biorefinery subsidiary in Seneca, Illinois.

REG Seneca, LLC retired its outstanding long-term debt obligation of $34.5 million on December 21 with cash generated from operations since April 2010. This amended and restated credit agreement went into effect April 2010 with Portigon AG (formerly WestLB AG).
"When we acquired Seneca, we believed the restrictive debt structure was appropriate because the plant was purchased out of bankruptcy. As REG Seneca came online and our state-of-the-art production technology was proven, the natural cash flow generated from this 60 million gallon refinery allowed us to pay off the debt," explained REG Daniel J. Oh, President and CEO.
"This debt repayment makes it more likely that we will be able to grow our business, implement new refining technologies, and grow our employee base," Oh added.
Renewable Energy Group® is a leading North American biodiesel producer with a nationwide distribution and logistics system. Utilizing an integrated value chain model, Renewable Energy Group is focused on converting natural fats, oils and greases into advanced biofuels. With more than 225 million gallons of owned/operated annual production capacity at biorefineries across the country, REG is a proven biodiesel partner in the distillate marketplace.
For more than a decade, REG has been a reliable supplier of biodiesel which meets or exceeds ASTM quality specifications. We sell REG-9000® biodiesel to distributors so Americans can have cleaner burning fuels that help lessen our dependence on foreign oil and reinforce food security. REG-9000® branded biodiesel is distributed in most states in the U.S.
Featured Product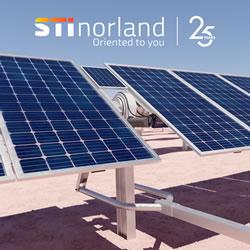 Developed in 2017, the STI-H250™ is consists of two linked torsion beams that rotate simultaneously following the sun's path. They are moved by just one motor, cutting supply and maintenance costs. STI-H250™ dual-row tracker includes backtracking mode to avoid shadowing between adjacent rows and stow function to protect the tracker in extreme wind conditions. For cleaning, vehicles can pass between trackers and each row can be placed in a different position.