Maryland Company Unveils Most Flexible and Efficient Solar Daylighting System Ever Developed
On January 14, 2013, thanks to help from the U.S. Department of Energy and the Maryland Energy Administration, the employee-owners of MBC Ventures, Inc., will launch a production line to begin manufacturing an innovative new patented technology, SkyLouver™ Systems. It is an energy-positive Daylighting system that significantly reduces lighting, heating and cooling costs for large commercial facilities.

It also marks the launch of yet another transformation for this 162-year-old company that has risen like a phoenix again and again. MBC Ventures is the descendant of W. A. McGraw and Company, a manufacturing operation established in Baltimore about 1851. In the Great Baltimore Fire of 1904, the original plant was destroyed and the operation was moved to its current location on Frederick Ave.
In an effort to protect their jobs during the 1990s, when the U.S. rushed to outsource manufacturing overseas, MBC's employees purchased the operation by establishing an Employee Stock Ownership Plan (ESOP). With help of the Steel Workers Union and the ESOP's Board of Directors, the new employee-owners began to restructure the operation, changing the management structure from a traditional hierarchy to one of self-directed work teams which made the company more lean and profitable.
Under the stewardship of its employee-owners, MBC Ventures, Inc. has become a progressive organization that offers family-supporting jobs and distribution of its profits to every employee. In the face of a dwindling middle class and faltering global economies this company's efforts are helping to point the way to new manufacturing horizons for American blue-collar workers.
That is why in October 2010 MBC's employee-owners embarked on another transformation to ensure their future. In an effort to secure U.S. manufacturing jobs that could not be exported, they purchased a new solar-energy intellectual property. Since then, they have invested millions of dollars in the development of the new technology and manufacturing equipment in preparation of taking the product to market.
Steve Mullan, the company's President and CEO, says, "For any number of reasons some products just lend themselves to production here in the U.S., closer to the eventual point of utilization. Unlike other solar technologies that are now produced overseas, the SkyLouver™ System's shape and light weight make it an unlikely candidate for cost-effective transport from outside the U.S. Also, manufacturing the system requires skill sets that we are simply not willing to entrust to others. Keeping our manufacturing proficiency intact on niche products is the only way we can remain competitive in the global market."
Those interested in attending the January 14, 2013 launch and seeing the SkyLouver™ System in action should contact Mr. Bill Korb, LEED Associate at bkorb@skylouversystems.com or at (410) 945-3306 or to learn more go to www.SkyLouverSystems.com .
MBC Ventures, Inc is an innovative employee-owned company that provides quality products to multiple industries. Its self-directed manufacturing, engineering and application teams continually improve its products and each step of its process. Since its inception in 1851, MBC has been awarded over 100 patents and trademarks. MBC is a ISO 9001: 2008 company.
Featured Product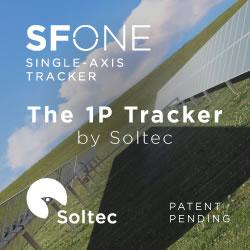 SFOne is the 1P single-axis tracker by Soltec. This tracker combines the mechanical simplicity with the extraordinary expertise of Soltec for more than 18 years. Specially designed for larger 72 an 78 cell modules, this tracker is self-powered thanks to its dedicated module, which results into a lower cost-operational power supply. The SFOne has a 5% less piles than standard competitor, what reduces a 75% the labor time.