Iowa Biodiesel Board applauds extension of biodiesel tax incentive
ANKENY, Iowa – The New Year brings new prosperity to Iowa's bourgeoning energy industry, thanks to Congress clearing a fiscal package that reinstates the biodiesel tax incentive for 2012 and 2013. President Obama is expected to quickly sign the bill into law. Randy Olson, executive director of the Iowa Biodiesel Board, released the following statement:

"The passage of the biodiesel tax incentive will mean tangible job creation in Iowa and beyond. Encouraging production of American-made fuel brings economic development and energy security – two of our nation's top priorities. This is an investment in American energy that will pay dividends.
"Iowa biodiesel experienced a mixed bag in 2012. Although the federal Renewable Fuel Standard helped create market stability, one Iowa plant was forced to shut its doors temporarily. The reinstatement of the tax incentive will help Iowa biodiesel reach its full potential. In 2013, we can expect a thriving industry that contributes even more to the state's economy.
"According to a study conducted by Cardno ENTRIX, an international economics consulting firm, the national biodiesel industry could support some 112,078 jobs with the tax credit in place versus 81,977 without it. Additionally, the return of the incentive is projected to support an additional $3.1 billion in GDP. As the nation's leading biodiesel producer, Iowa stands to gain a significant slice of the jobs and economic growth as a result of this smart fiscal policy. Our state's producers are ready and eager to play a greater role in the nation's laudable progress in domestic energy independence."
For more about Iowa biodiesel, visit www.IowaBiodiesel.org.
Featured Product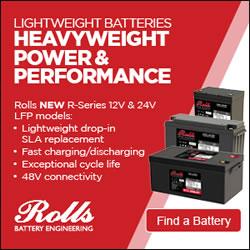 Designed for true drop-in replacement, Rolls new R-Series 12V & 24V LFP lithium models offer a maintenance-free lightweight flooded and SLA alternative in four popular BCI case sizes with fast charge/discharge capability. Rolls custom built-in BMS provides all necessary operating protections for safe operation and seamless integration for deep cycle replacement in 12V, 24V or 48V systems.