The transaction is valued at €350 million, plus an earn-out of up to €50 million, depending on production over the next five years.
LONDON – 2 January 2013 - A consortium comprising GE Energy Financial Services, MEAG -- the asset management arm of Munich Re and ERGO -- and EDF Energies Nouvelles is buying 32 operating wind farms in France from Iberdrola.

The portfolio of onshore wind farms, which are spread throughout France and were commissioned in 2006-2012, have a combined capacity of 321.4 megawatts using turbines from a variety of manufacturers. Electricity generated is sold according to long-term contracts under France's feed-in tariff. The transaction is valued at €350 million, plus an earn-out of up to €50 million, depending on production over the next five years.
Upon completion of the transaction, subject to regulatory approval, the wind portfolio's ownership will be: GE Energy Financial Services and MEAG at 40 percent apiece, and EDF Energies Nouvelles at 20 percent. EDF Energies Nouvelles will provide asset management and operation & maintenance services for the wind farms. The consortium envisions re-powering some of the wind farms, which feature 160 turbines, to improve their efficiency and reliability using GE technology.
Each member of the consortium stated that the transaction is consistent with its renewable energy investment strategy.
"This transaction is a great opportunity for EDF Energies Nouvelles to expand its wind assets portfolio in France and scale up its O&M business. GE's and MEAG's diligence and knowledge of this industry allowed us to sign this acquisition in the targeted timeframe," said Emmanuel Jaclot, executive vice president of EDF Energies Nouvelles.
"With this investment we are adding more sustainable investments with calculable risk and attractive returns to our portfolio, leveraging the know-how of the entire Group," said MEAG Managing Director Holger Kerzel.
"We are pleased to partner with EDF Energies Nouvelles and MEAG in acquiring a substantial portfolio of operating wind projects in France, and intend to seek additional opportunities to expand our renewable energy assets in Europe," said Andrew Marsden, a London-based managing director and European leader at GE Energy Financial Services.
Additional details of the transaction were not disclosed.
Citi acted as exclusive financial advisor to the consortium.
About EDF Energies Nouvelles
Operating in Europe and North America, EDF Energies Nouvelles is a market leader in green electricity production, with a portfolio of 4,200 MW of gross installed capacity. With a development focused on wind and solar photovoltaic energy, the Company recently entered new promising markets: Israel, Morocco, South Africa and Poland, and is expanding its business in offshore wind energy. The Company is also present in other segments of the renewable energy market: marine energy, biogas, biomass and small hydro as well as in distributed energies. EDF EN manages renewable energy projects' development, financing, construction as well as operation and maintenance for its own accord and for third parties. EDF Energies Nouvelles is a subsidiary of the EDF Group and its renewable energy arm.
About GE Energy Financial Services
GE Energy Financial Services—GE's energy investing business—works as a builder, not just a banker, to help meet the world's power and fuel needs. We offer more than money—expertise—for essential, long-lived and capital-intensive power, oil and gas infrastructure—GE's core business. Drawing on GE's energy technical know-how, financial strength and risk management, we see value where others don't and take on our customers' toughest challenges with flexible equity and debt transaction structures. Based in Stamford, Connecticut, GE Energy Financial Services holds an approximately $20 billion global energy portfolio. More information: www.geenergyfinancialservices.com Follow GE Energy Financial Services on Twitter: @GEEnergyFinServ
About GE
GE (NYSE: GE) works on things that matter. The best people and the best technologies taking on the toughest challenges. Finding solutions in energy, health and home, transportation and finance. Building, powering, moving and curing the world. Not just imagining. Doing. GE works. For more information, visit the company's website at www.ge.com.
About MEAG and RENT
MEAG stands for best practice asset management for Munich Re and ERGO. MEAG is present in Europe, Asia and North America and also offers its extensive know-how to institutional investors and private clients from outside the Group. MEAG currently manages assets to the value of around € 234 billion (as of 30 September 2012).
Munich Re launched the RENT (Renewable Energy and New Technologies) investment programme in early 2010, which aims to invests € 2.5 bn all told. RENT investment volume currently lies in the upper-three-figure euro millions and includes photovoltaic facilities and onshore wind power plants in Germany and Europe.
Featured Product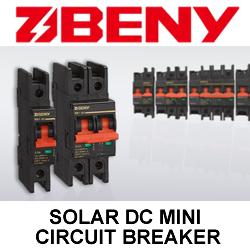 The BB1-63 modular miniature circuit-breakers can be used in solar DC circuits up to 1200 VDC (4-poles execution). Application in solar DC circuits, battery energy storage systems and UPS. Arc flash barrier design keeps solar equipment more safe and reliable. For DC circuit over-current protection.