Five new models with capacities ranging from 16,000 BTU's to 32,000 BTU's, and up to 80% energy savings to be introduced.
Charleston, SC, January 4,2012: Kingtec Solar, leaders in solar air conditioner technology, are delighted to announce the unveiling of 5 new models of our solar air conditioner lineup for residential and commercial use, at the upcoming AHR Expo to be held January 28-30, 2013 at the Dallas Convention Center - Dallas, TX at Kingtec Group USA, Inc. Booth:3275.

As the world's largest HVACR exposition, with 1,800+ exhibitors and 30,000+ visitors expected this year, Kingtec believes the AHR Expo will serve as the ideal opportunity to showcase the newest additions to their line of solar air conditioners to interested buyers, HVACR professionals and dealers worldwide. These appliances have already generated strong expressions of interest from vendors and distributors across the globe, from Asia to Africa, Europe to the Middle East and across America. Now, for the first time, visitors, attendees and participants at the Expo will get a chance to see these amazing devices up close and in person.
Kingtec's current solar air conditioner line-up includes:
K25Z-4 Solar Window Air Conditioner (Off Grid Ready)
K50GJ-4 - Solar Vertical Wall Mount Air Conditioner
K25xd-4,K50xd-4 - Solar Tru-Wall Air Conditioner
K25FT-4 Solar Split Ductless
K25CJ-4 Solar Window Air Conditioner
K25TF-4,K50TF-4 Solar Cassette Ceiling Mount Air Conditioner
and are already proving themselves to be highly effective in areas hit by constant blackouts or rolling brownouts. Inspired by the world famous Kingtec DC-powered mobile AC, the new solar air conditioner range use some of the same proven components from Kingtec and other globally renowned component manufacturers.
Global inquiries received from interested parties include business people in Africa that depend on using generator power because power from the grid is extremely unreliable and prohibitively expensive. The Company was also thrilled to receive expressions of interest from a number of regions where electric power is more expensive than the cost of owning an AC. For these users and for ordinary consumers that want to switch to greener, cheaper and renewable energy, a solar air conditioner is the ideal solution. Kingtec's K25Z-4 for example is capable of running at an amazing 18.8 E.E.R off thegrid. That's a stunning 180% more efficient than a conventional "energy efficient" 2-ton split ductless unit!
On behalf of Kingtec Solar, we wish all participants at AHR Expo every success, and invite you all to drop by and visit us at Kingtec Group USA, Inc. Booth:3275. Representatives will be on hand to greet you and explain all the features that the newest range of solar powered air conditioners have to offer. This is a great opportunity for you to test-drive the latest energy efficient and sustainable HVACR technology all under one roof, all at one time - so don't miss out on this one!
To learn more about Kingtec Solar and it's solutions, visit us online at: http://kingtecsolar.com/
CONTACT:
Jamie Edens
Solar Technical Assistance/
USA East Coast Representative
Featured Product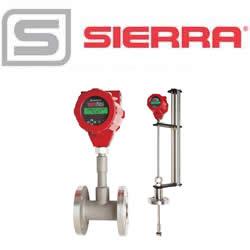 Sierra was the first to introduce a combination volumetric vortex and multivariable mass flow meter in 1997. Today, Sierra's completely redesigned InnovaMass® iSeries™ 240i/241i builds on two decades of success measuring five process variables for gas, liquid and steam with one connection. Now, with the latest hyper-fast microprocessors, robust software applications, field diagnostic and adjustment capability, and a new state-of-the-art flow calibration facility, Sierra's vortex iSeries delivers precision, performance, and application flexibility never before possible.