According to EnergyTrend, a research division of global market research firm TrendForce, global photovoltaic (PV) market is not expected to post big fundamental change in terms of industry structure nor ASP trend in 2013.
According to EnergyTrend, a research division of global market research firm TrendForce, global photovoltaic (PV) market is not expected to post big fundamental change in terms of industry structure nor ASP trend in 2013. While the ASP downhill trend is expected to continue into 2013, PV companies are also expected to be cautious over their investment at the meantime. The only aspect that draws attention will be a potential shift of PV demand from the West to the Far East.

Oversupply to continue into 2013, but ASP pressure only to intensify in 2H
A price plummet of all PV products has been continued throughout 2012 because of oversupply. Manufacturers launched irrational price competition as attempts to trade for more cash. According to EnergyTrend, of the supply chain, the price fall in the polysilicon segment has taken the lead with ASP slashed by as much as 40.8% throughout the year. Where ASP of silicon wafer, cell and module posted an average drop of 25-30% in the same period, the research firm stated.
Among these segments, only module makers were able to see the ASP drop pressure lessen. While the ASP trend for polysilicon and cell paused for a short while in 3Q12, a demand shrink at the European market again stimulated price to fall again in 4Q12. ASP stabilizes recently as market price has very much hit the bottom for the short-term being. Since vendors find no excess room to accept for further cuts, they finally has the opportunity to improve their cost structure via technology advancement before the next wave of price drop, EnergyTrend observed.
EnergyTrend expects the oversupply is expected to continue into 2013 with an ASP rebound unlikely to occur, especially when PV system developers are expected to stand firm on their investment-return rate (IRR)pursuit. Yet, the firm believes that the intensifying tariff war in some regions may bring shortage, which in turn should help holding overall ASP in a more stable pattern in 1H. A more severe price competition is only expected to emerge in 2H13 when most PV companies are expected to cut price for market share gain.
Despite the launch of anti-dumping and countervailing investigations has brought a volatile ASP trend for a short while, the volatility lulled. Given the fact that system developers' pursuit should continue capping an upward ASP trend, the expected launch of anti-dumping and countervailing investigations in China against overseas-produced polysilicon may only bring a price volatility in 2H13. Yet, EnergyTrend believes the volatility to be mild based on the current supply and inventory status.
Cell manufacturers to see most severe oversupply; Asia to rise as demand driver
EnergyTrend estimates that the worldwide PV grid-connected systems generated a total of 29.7GW in 2012. While the amount of grid-connected is flat YoY, the installation has actually posted a YoY growth of almost 30%. Vendors thus still found business potentials, though the stiff ASP pressure continues weighing on their profitability.
As the oversupply issue is expected to continue throughout 2013 in all segments, cell makers expected to suffer most among all. Those who managed to have a vertical integration will continue expanding capacity on one hand, while those specialized cell makers will also keep their expansion on the other hand. Companies of polysilicon and wafer, on the contrary, are expected to bear fruits from consolidation with most to be disciplined over capacity expansion. In the downstream module segment, vendors should also able to counter with any threat from oversupply as they are always demand sensitive with a lean inventory level to reflect real-time demand.
Asia will be the spotlight of PV demand in 2013. According to EnergyTrend, demand distribution by continents is expected to be Asia 44%, Europe (including the Middle East and Africa) 36% and America 20%.
Asia is expected to take over Europe as the demand driver for PV products in 2013. The PV market in Asia is expected to flourish as local demand about to materialize amid local stimulus programs. EnergyTrend expects China to rise as the number-one PV demand driver in 2013. As most European countries struggle to resolve a fragile economy, most European governments will have no alternative but to reduce planned subsidy over PV installation. And European PV vendors will also encounter stiffer pressure to raise fund. The joint impacts from these factors should discourage demand from the region accordingly.
Consolidation to be limited throughout supply chain
No fundamental change has been taken place in the PV supply chain 2012 without any large-scale merger nor acquisition taken place. Those players who quitted from the market are those uncompetitive ones. Among all the M&A events, only Hanwha Solarone's acquisition of Q-Cells and NSP's investment at DelSolar have drawn attention.
Most companies still strived to raise fund via multiple channels while waiting for a potential demand rebound. EnergyTrend observes that most manufacturers were notionally discipline over capacity expansion in 2012 with most chose to integrate with downstream players to secure orders. Some US and European companies have also quitted from upstream production but instead focused more on downstream system development. Where others in the production end also adjusted their strategy via slowing down vertical integration but instead tighten ties with peers.
Looking forward into 2013, EnergyTrend expects companies from most segments, except for the cell segment, to maintain focusing on their core business instead of consolidation. Consolidation among cell makers will continue to take place in 2013 due to the potential threat from trade war. Where for the upstream polysilicon and wafer segments, no meaningful change is expected as the market will continue being dominated by the big names. In the module segment, chances of consolidation only exist for those players who manage to outpace rivals in terms of brand name promotion.
Featured Product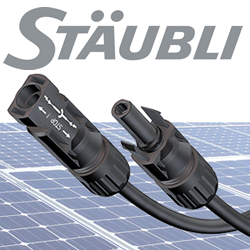 ​Stäubli Electrical Connectors are used on more than 300 GW, over 50% of the PV capacity worldwide. The MC4 family of UL and TUV listed products include connectors, in-line fuses, branch connectors, cable assembly and more.