Leading Green Crude Oil Producer Recruits Seasoned Energy Industry Executive, Thomas Willardson, to Drive Company's Financial Initiatives
SAN DIEGO, January 8, 2013 – Sapphire Energy, Inc., one of the world leaders in algae-based green crude oil production, today announced Thomas 'Tom' Willardson has joined the company as Chief Financial Officer. In this role, Willardson brings more than 30 years of experience in leading financial initiatives for public and privately held companies, including serving as CFO for Aurora Algae, Inc.; Energy Recovery, Inc.; and Cost Plus, Inc.; among others. At Sapphire Energy, he'll oversee financial planning, accounting, insurance, legal, and investor relations.

"Sapphire Energy is continuously looking to grow its team of highly regarded experts, and we're very pleased to welcome Tom on-board," said Cynthia 'CJ' Warner, CEO and chairman of Sapphire Energy. "His vast experience in successfully defining financial roadmaps for companies – from private, investor-funded startups to large public companies – makes him distinctly qualified to serve as our CFO. We look forward to leveraging his expertise for both day-to-day financial operations and long-term strategic planning as we continue on our path to bring algae-to-energy production to commercial scale."
Most recently, Willardson served as CFO at Aurora Algae, Inc., a producer of high-performance, premium algae-based products for the pharmaceutical, nutrition, aquaculture and fuels markets. Before that, he was CFO at Energy Recovery, Inc., a global leader in the design and development of energy recovery devices for desalination and other industrial processes, where he led the company's successful IPO initiative. At Cost Plus, Inc., the specialty retail store chain, he served as executive vice president and CFO, overseeing all companywide financial initiatives, including a significant restructuring of the company's bank credit lines. As CFO at Visual Sciences, formerly WebSideStory, a software company that pioneered what is today SaaS and the Cloud, he helped lead the company through an aggressive growth period of more than 40 percent annually and oversaw its subsequent IPO. As CFO at Archimedes Technology Group, a privately funded nuclear waste remediation technology company, he led a successful series D funding round and helped design an ESCO-similar plan to share in cost savings created by the company's own technology.
Willardson previously held senior finance roles with Leap Wireless International, Bechtel Corporation, The Fremont Group, and Fluor Daniel. He holds a B.S. in Finance from Brigham Young University and an MBA from the University of Southern California.
About Sapphire Energy
San Diego-based Sapphire Energy is pioneering an entirely new industry – Green Crude production – with the potential to profoundly change America's energy and petrochemical landscape for the better. Sapphire's products and processes in this category differ significantly from other forms of biofuel because they are made solely from photosynthetic microorganisms (algae and cyanobacteria), using sunlight and CO2 as their feedstock; are not dependent on food crops or valuable farmland; do not use potable water; do not result in biodiesel or ethanol; enhance and replace petroleum-based products; are compatible with existing infrastructure; and are low carbon, renewable and scalable. Sapphire has an R&D facility in Las Cruces, New Mexico, and is currently operating the first Integrated Algal BioRefinery in Columbus, New Mexico. For more information, visit www.sapphireenergy.com
Featured Product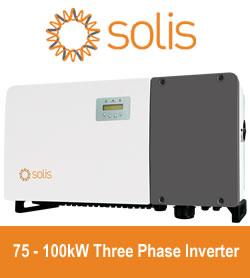 Solis75kW - 100kW series high-power string inverters are widely used in industrial and commercial rooftops. Solis's new three-phase string inverter is the first choice for industrial and commercial photovoltaics. 75-100kW three phase series string inverter have Maximum 28 strings input, support "Y" type connection in DC side. Maximum string input current 13A, support bifacial modules access.Supports anti-PID function to improve system efficiency.