Monson resident rebuilds home energy efficient, uses solar to reduce 87% of electricity bill
Dublin (Georgia), January 9, 2013. – In June of 2011 a crippling EF3-tornado nearly obliterated the small Massachusetts town of Monson, destroying 40 homes in its path and causing severe damage to many buildings and roads.

As devastating as the 160-mph winds were, the 8,500 residents of the little town just east of Springfield also speak of a community spirit and strength the disaster has given them. For some Monsonians, like James Williams and his wife Elizabeth, the fact that they had lost everything in the tornado was a cue to start over on a completely new level.
"When we rebuilt our home we decided wanted to more energy efficient and we were very interested in Solar," said Williams.
Paradise Energy Solutions, a solar integrator company operating in nine states in the North East and with a Westfield, Massachussetts, branch office, was responsible for designing and executing the installation of the 21 solar panels that comprise the 5.25 kW photovoltaic system on the roof of the Williams' garage. Since the array was installed back in the early fall this year, the power bill for the Williams' residence has dropped 87% from $230 a month to $30.
"[Paradise Energy Solutions] really cared about our situation and that made it easy to go with them for our installation," continued Williams. "It's very interesting to come home at the end of the day and see just how much energy is being produced, even when it's a cloudy day like today!"
The Williams' system will pay for itself in just under four years and will provide a significant return on their investment.
"The return on investment from adding energy efficient measures and investing in a high-yielding solar PV system is immediate," says Olan Martin, Solar Expert for Paradise Energy Solutions and the consultant who worked with the Williams on their system.
"With their PV system the Williams will be able to harvest energy from the sun for a minimum of 30 years per guarantee of the manufacturer. Add to this zero emissions and overall reduction in carbon footprint, and there is really no better way to generate 100% reliable clean energy."
Throughout the last years, the cost for solar systems has continually dropped and is competitive with other forms of energy generation in many areas of the country. Home owners deciding to invest in a solar PV-system usually enjoy an average 10% increase in the market value of their residence and the benefit of locking into a levelized cost of energy for many decades.
Joe Thomas, the President and CEO of MAGE SOLAR USA, the company who provided the solar panels adds: "We are tremendously impressed by the Williams' story and honored to have been part of this project together with Paradise Energy Solutions. The Williams' decision to rebuild after the tornado using solar energy sends a significant message but also spreads hope and confidence that each one of us can be part of the clean energy future."
MAGE SOLAR – The Sun on Your Side
MAGE SOLAR USA, headquartered in Dublin, Georgia, specializes in complete solar systems and provides high-quality photovoltaic modules, intelligent mounting systems and high-performance brand inverters. As a subsidiary of the international MAGE GROUP, it uses the Group's 40 years of know-how to develop optimally coordinated system solutions. A competent partner network guarantees profitable solar energy systems for customers throughout the Americas and in 21 more countries in Europe, Asia, Africa, and Australia. In 2011, the company generated U$280 in sales with around 180 employees.
www.magesolar.com
www.linkedin.com/company/mage-solar-projects-inc
www.facebook.com/magesolar
www.twitter.com/mage_solar
Paradise Energy Solutions
Paradise Energy Solutions, LLC is an experienced and qualified solar energy contractor with offices in Pennsylvania, Illinois, Maryland, Massachusetts, New York and Ohio. They are a fully licensed and insured Solar Energy Contractor in Pennsylvania (PA), New Jersey (NJ), Maryland (MD), Delaware (DE), New York (NY), Massachusetts (MA), Ohio (OH), and Illinois (IL). They are also an "Approved Solar PV Installer" under many state rebate programs in the states listed. Paradise Energy has 45 employees and has installed a total of over 5 megawatts of solar-power as of the end of 2012. In addition, Paradise Energy Solution's CEO Tim Beiler, as well as Larry Beiler, Manager of PA Operations, have earned the industry's leading recognition of expertise as a certified installer of solar electric systems (aka "photovoltaic" or "PV" systems) and certified technical sales from the North American Board of Certified Energy Practitioners (NABCEP).
www.paradisesolarenergy.com
www.linkedin.com/company/paradise-energy-solutions-llc
www.facebook.com/ParadiseEnergySolutions
www.twitter.com/paradisesolar
Featured Product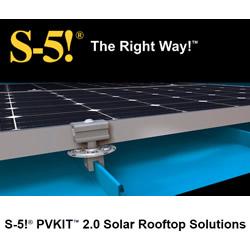 The concept of combining PV arrays with standing seam metal roofing is growing-for good reasons. Metal roofs have a life expectancy of more than 40 years. Shouldn't the mounting system last as long? With S-5! zero-penetration attachment technology and PVKIT 2.0, the solarized metal roof is the most sustainable system available -and without compromising roof warranties! PVKIT 2.0 is the also the best solution for attaching PV modules directly to any exposed fastener metal roof.