The Lyme Business Park biomass heating system displaces 3,000 gallons of fossil fuel and saves over $10,000 annually. It is the first participant in the Biomass Thermal Energy Council's Biomass Green Heat Registered Site program.
Lyme, N.H./Washington D.C. - January 14, 2013 - The Biomass Thermal Energy Council (BTEC) announced today that Tarm Biomass has become the first participant in the Biomass Green Heat Registered Site program.

The BTEC program allows residential, business, and facility owners to proudly showcase their biomass thermal appliances to colleagues and neighbors with a professionally designed plaque and registration in an online catalogue.
"We like to practice what we preach" said Scott Nichols, Owner and President of Tarm Biomass. "Operating what we sell in various settings helps us understand what our customers face in the field." The Biomass Green Heat Site system in the Lyme Business Park is a 200,000 Btu/hour Froling pellet boiler. The system consumes wood pellets at a rate of about 30 tons a year (at a cost of $250 per ton). The wood pellet boiler meets 93% of the building's thermal needs, and has a back up fuel oil unit that supplements the remainder of those needs.
The Biomass Green Heat Registered Site program was developed in 2012 in consultation with the BTEC Committee on Education and Outreach, and Jeff Rubin of Pellergy. The recognition program is designed to acknowledge the end user's commitment to a local and renewable energy source, despite the often-hidden placement of biomass heating systems in boiler and maintenance rooms.
Tarm Biomass retrofitted the Lyme Business Park commercial building with the wood pellet boiler, which now offsets the use of 3,000 gallons of fuel oil and saves $10,000 annually. The fuel savings alone enable a rapid return on investment for the business park and its tenants. Tarm Biomass also provides boiler service for the entire office complex, effectively serving as the facility's energy service company.
To participate in the Biomass Green Heat Registered Site program, the recipient or equipment supplier must provide performance, fuel, and site data on the biomass heating system and complete the payment process.
BTEC members receive plaques at a discounted rate. To order, for more information on the plaque, or the Registered Biomass Green Heat program, visit biomassthermal.org/resource/siteRecognitionProgram.asp, or email emanuel.wagner@biomassthermal.org.
Featured Product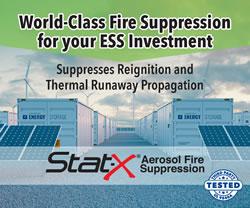 Stat-X® condensed aerosol fire suppression is a solution for energy storage systems (ESS) and battery energy storage systems (BESS) applications. Our Stat-X condensed aerosol fire extinguishing product was tested for efficacy in suppressing li-ion battery fires. It was found that the product successfully extinguished single and double cell battery fires. This testing was conducted in parallel with a large battery fire testing program on behalf of a large energy storage company.