This portable substation provides multiple 120 VAC and 240 VAC outlets to allow operating multiple devices from a single primary 3 Phase 480 VAC power source where standard power sources are unavailable.
The MGL25-8C-480-120V-GFI Temporary Power Distribution System from Larson Electronics converts three phase 480V current to usable single phase 240V AC and 120V AC for applications where operators must tap into high voltages independently of the local power grid. Safeguarded by fused and integral GFI breaker protection, this portable substation provides multiple 120 VAC and 240 VAC outlets to allow operating multiple devices from a single primary 3 Phase 480 VAC power source where standard power sources are unavailable.

The MGL25-8C-480-120V-GFI temporary power distribution substation allows operators to tap into and convert a 480 VAC single primary three phase input to single phase 120 and 240 VAC current through an onboard 25 KVA transformer and distribute this current through multiple outlets. An included 50 feet of line power cord fitted with a 480V 60amp 3ph/4 wire plug allows operators to easily and quickly tap into generators and external lines running 480V 3 phase power. Primary current control is provided by a main on/off switch with fused disconnect for secure operation and safe primary feed to the onboard 25KVA transformer. The transformer steps down the 480V primary current to usable standard 240 and 120 VAC which is fed into a 125 amp load center with main breaker for protection against overloading. Secondary power is distributed through six 20amp, 120v, GFI protected waterproof duplex receptacles and two 30amp, 250v receptacles to allow convenient connection of equipment and industrial lighting requiring standard voltages. The secondary line includes additional protection in the form of six - 20amp, 125 Volt, 1 pole breakers and 2 - 30amp, 250v, 2 pole breakers. The load center is fitted with an optional glass door, (solid door standard) which allows operators to quickly and easily inspect the system for maintenance and servicing purposes. The load center housing is Nema 4/12 rated for protection against the elements and constructed of steel with a durable grey finish for protection against corrosion and dampness. The entire 25 KVA transformer and load center assembly is mounted to a heavy duty cart with rugged rubber tires, allowing operators to easily move the unit about the work area without the need for forklifts or cranes. The cart and load center assembly are fully grounded and an included rear mounted storage rack provides convenient storage for the included 5o foot line power cord. This portable power transformer/substation is ideal for plant turnarounds and new building construction where connection to the local power grid is impractical or undesired and allows operators to run multiple devices including up to 1250 watts of lighting from a single source of high voltage 480V current.
"This power distribution sub-station focuses on portability, as one person can easily wheel it around," said Rob Bresnahan with LarsonElectronics.com. "For operators looking to run single phase gear from three phase power at different locations, the MGL25-8C-120V-GFI is ideal. As with all our power distribution systems, we can customize the transformer size, panel arrangement and outlet offerings to suit the customer's requirements."
Larson Electronics manufactures and distributes a wide variety of power distribution substations, solar powered generators, inline transformers, hazardous location lights, intrinsically safe lights and a large line of explosion proof equipment and accessories. Visit Larsonelectronics.com to learn more or call them at 1-800-369-6671 or 1-214-616-6180 for international orders and questions.
Featured Product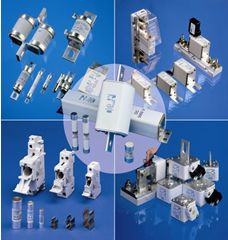 SIBA Fuses: your trusted source for all your circuit protection applications, from solar power to wind power. We are the world leaders in these applications and the most trusted name for your circuit protection needs. We have been working for over 70 years in semiconductor fuses, including ULTRA RAPID®, medium, and high voltage, standard European, miniatures, electronic fuses, and a wide range of DC rated fuses (24 VDC - 5000 VDC) for all types applications. We work with medium and high voltage fuses for protection of transformers, including submersibles, motors, medium and high voltage switchgear, compact substations, cable feeders, and high voltage capacitor circuits. New: Full line of PV UL Listed fuses and fuse holders. Contact us today for more information on our products and services.