Financing closes on 54-MW wind park in Tamaulipas
MONTERREY, N.L., Mexico--Organización Soriana, who with the Mexican company GEMEX and Swiss investor Grupo ECOS have formed the company Compañía Eólica de Tamaulipas S.A. de C.V. (CETSA), announce the closing of financing for the construction of its first wind energy project on the farm cooperative known as Ejido El Porvenir in Reynosa, Tamaulipas. The North American Development Bank (NADB) and the Mexican commercial bank Grupo Financiero Banorte (BANORTE) are providing financing to CETSA for the project.

The project consists of the installation of 30 wind turbines, each with a nominal capacity of 1.8 MW, which will be provided by the Danish company VESTAS, a worldwide supplier of wind turbines, as announced by Vestas Mediterranean on December 28, 2012.
The Mexican retailer Organización Soriana will purchase the electricity produced by the wind farm through a long-term power purchase agreement, in order to actively contribute to the development of renewable and sustainable energy, while at the same time reducing its energy costs by purchasing the electricity generated by CETSA through a self-supply structure.
"This electricity will be used by Soriana to supply 163 stores throughout Mexico, which represents the displacement of 100,00 tons of carbon dioxide a year, equivalent to taking 29,000 cars a year out of circulation," stated Aurelio Adán Hernández, Soriana Chief Financial Officer. "Construction is scheduled to begin during the first quarter of this year and is estimated to cost more than US$130 million."
With respect to the financing, NADB and BANORTE through a bank consortium are providing a loan to CETSA through a project finance mechanism for the construction of what will be the first wind farm in the state of Tamaulipas.
"This is the first wind energy project in Mexico to be funded by NADB," stated NADB Managing Director Gerónimo Gutiérrez, referring to the US$51 million loan provided by the bilateral financial institution for the project. "It's an example of the joint efforts of the public and private sectors to implement clean energy projects, as well as supports the efforts of the State of Tamaulipas and the Mexican Government to combat climate change."
Tamaulipas Governor Egidio Torre Cantú indicated that "El Porvenir reflects the potential for developing wind energy projects in Tamaulipas, as well as his Administration's commitment to promoting investment in the state, to the environment and to the development of sustainable infrastructure."
For his part, Adrian Katzew Corenstein, Vice President and General Manager of Vestas Mexico & Caribbean, said, "This project demonstrates our dedication to Mexico and Vestas' commitment to continue playing a leading role in the diversification and sustainability of the country's energy mix."
Environmental benefits related to this project include the displacement of over 90,976 metric tons of carbon dioxide (CO2), 1,442.4 metric tons of sulfur dioxide (SO2) and 189.7 metric tons of nitrogen oxides (NOx) per year. The project was certified by the Border Environment Cooperation Commission (BECC) in February 2012.
NADB
For more information, visit www.nadb.org.
About Organización Soriana
Organización Soriana S.A.B. de C.V. a Mexican retailer funded with 100% Mexican capital and founded in 1968. Its shares have been quoted on the Mexican stock exchange (Bolsa Mexicana de Valores) since 1987 as SORIANA. www.soriana.com.
About Grupo ECOS.
Grupo ECOS is a leading investment firm focused on selected sustainable development segments, investing particularly in renewable energy companies and projects (wind, solar and run-of-river hydro). Founded by Swiss partners committed with Latin America, the geographical investment focus of Grupo ECOS is this region.www.grupoecos.com
About Vestas
Every single day, Vestas wind turbines deliver clean energy that supports the global fight against climate change. Wind power from Vestas' more than 50,000 wind turbines currently reduces carbon emissions by approximately 55 million tons of CO2 every year, while at the same time building energy security and independence. Today, Vestas has delivered wind energy in more than 70 countries. With 65 percent more megawatts installed than its closest competitor and more than 53 GW of cumulative installed capacity worldwide, Vestas is the world leader in wind energy.
Featured Product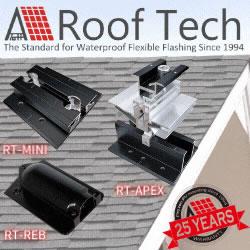 Now Roof Tech brings you the most innovative, watertight mounting systems ever developed for solar photovoltaic systems. Designed and manufactured exclusively for us by Japan's longtime leader in roofing technologies, Roof Tech products are 100% code-compliant and offer fast, simple installation and huge savings on shipping costs due to their compact, rail-less design. Learn more about our full line of versatile PV mounting solutions now available for residential installations. The next generation in rooftop solar mounting solutions."