Industry leaders to gather in Tampa for longest-running technical solar conference, June 16-21
TAMPA, FLA. – Registration is now open for the 39th IEEE Photovoltaic Specialists Conference (PVSC), the oldest and most respected technical gathering for PV scientists, engineers and stakeholders. The 2013 event will take place June 16-21 in Tampa, Fla.

For more than five decades, the PVSC has served as the preeminent meeting place for the industry's best and brightest to share insights on the latest research and development efforts across the full spectrum of PV technologies. The conference is renowned for its strong technical program, featuring 11 key areas:
• Fundamentals and New Concepts for Future Technologies
• Chalcogenide Thin Film Solar Cells and Related Materials
• III-V and Concentrator Technologies
• Crystalline Silicon Photovoltaics
• Thin Film Silicon-Based PV Technologies
• Organic Photovoltaics
• Space Technologies
• Characterization Methods
• PV Modules and Terrestrial Systems
• Reliability of PV
• PV Velocity Forum
The 39th PVSC program committee is now welcoming technical abstract submissions for presentation at the event. Abstracts of particularly strong merit will also be considered for inclusion in the peer-reviewed IEEE Journal of Photovoltaics. All prospective authors must complete and submit their abstracts no later than February 4, 2013.
The nomination period is also underway for the William R. Cherry Award, presented annually to an exceptional individual for his or her career contributions to advancing photovoltaics. In 2012, the Cherry Committee honored Dr. Sarah Kurtz, a principal scientist and group manager with the National Renewable Energy Laboratory (NREL) known throughout the industry for her work with multi-junction solar cells and promoting PV systems reliability. Nominations for the Cherry Award close on January 31, 2013.
"Every year, the PVSC strives to highlight the hard-hitting issues shaping the future of PV development and adoption. For this year's conference, we've included a new technical area—Reliability of PV—a topic that has become increasingly important as the solar industry matures around the world," said Dr. Ryne P. Raffaelle, Conference General Chair for the 39th IEEE PVSC. "By addressing the PV industry's most pertinent issues, the conference continues to evolve while maintaining the same technical prestige our colleagues have come to expect since 1961."
Early bird registration for the 39th IEEE PVSC closes on April 30, 2013.
For more information, please visit www.ieee-pvsc.org. Follow the 39th IEEE PVSC on Twitter @PVSC39, or on Facebook at www.facebook.com/ieeepvsc.
About IEEE:
IEEE (Institute of Electrical and Electronics Engineers, Inc.) is the world's largest technical professional society. Dedicated to the advancement of technology, the IEEE publishes nearly one-third of the world's literature in electrical engineering, computer science and electronics, and has developed more than 1,500 industry standards. The organization annually sponsors more than 1,300 conferences worldwide. Additional information about the IEEE can be found at www.ieee.org.
Media Contact:
Kimberly Setliff
Antenna Group for 39th IEEE Photovoltaic Specialists Conference
415-977-1942
Kimberly@antennagroup.com
Featured Product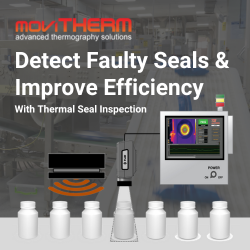 MoviTHERM's Thermal Seal Inspection (TSI) solution provides precise and reliable detection of defects in a variety of packaging types, including pouches, bags, blister packs, bottle caps, and more. By detecting defects in your packages, the TSI solution helps increase efficiency in your production line and ensures top-quality packaging is delivered to your customers every time. With state-of-the-art technology and an experienced team, MoviTHERM is dedicated to delivering accurate inspection solutions and peace of mind to its clients. Contact MoviTHERM today to learn more about their thermal seal inspection solution.