160 kW solar PV system part of school's environmental stewardship mission; energy savings hedge against tuition increases
Dublin (Georgia), January 16, 2013. – Educational institutions around the nation have been battling severe budget cuts for several years in a row now. Like many schools, Vista-based Tri-City Christian School has also been looking into innovative ways to reduce its expenses and gain financial sustainability.

One of TCCS's main imperatives was to not having to raise tuition from its 600+ students which is (aside from donations) its only source of income. At the same time, the school's administration was keen on continuing as the exceptional educational community that it is with a focus on teaching core values, such as leadership, stewardship, and responsibility.
Finding a more financially viable solution that would also hedge against rising utility costs (the second highest expenditure for the school) was quickly identified as an area the administration wanted to focus on. R. E. Pierro Solar, a family owned and operated construction business with 17 years of experience suggested the implementation of a solar PV system. All four of the Pierros' children have attended TCCS, so the company's owner, Robert Edward Pierro, also took a big personal interest in the clean project which could very well decide over the school's future.
"R.E. Pierro Solar values the relationship between TCCS and MAGE SOLAR. The diligence of MAGE SOLAR and the confidence from TCCS to invest into the future of renewable resources is a perfect match," Robert E. Pierro comments. "We all are agree it's our responsibility to protect our environment and prolong our beautiful planet. Installing photovoltaic solar panels not only reduces TCCS carbon footprint, but also gives them a positive cash flow in approx 10 years. We feel honored and blessed to be a part of this amazing new venture for our children's children."
Pierro solar designed and installed the 160 kW photovoltaic system on top of the school's gymnasium, a space that has previously not been utilized and that provides a perfect area to calibrate the solar panels to harness the sun's rays. Comprised out of 642 individual solar modules the system is guaranteed to generate energy for the next three decades, a warranty that the panel manufacturer, US-based MAGE SOLAR, as one of the only ones in the industry provides. This way, TCCS has the ability to lock into a low energy rate for the next 30 years, a decision the school will not regret:
"We are extremely excited that our students will experience the 21st century benefits of solar operated energy. Our school values its responsibility of conserving energy and our precious resources," says Clark Gilbert, Superintendent of Tri-City Christian School.
Tri-City Christian is currently leasing the PV-system from a third party but will eventually own the array—by then the school considers its monthly energy savings a source of revenue. Besides mere financial advantages, the clean energy system also allows the school to make their commitment to stewardship and sustainability very real and feasible. Faculty and staff are dedicated to educate students and parents about the benefits of clean energy and the technology behind it. The system which is calculated to produce 250,000 kilo watt hours of electricity per year, which is equal to offsetting 3,200 metric tons of greenhouse gas producing carbon dioxide, 37 passenger vehicles or 410 barrels of oil consumed.
Joe Thomas, President and CEO of MAGE SOLAR adds: "By 'going solar', Tri-City Christian School invested in their clean energy future and the economical, environmental and education benefits are tremendous. We are extremely proud and honored to be part of this project that will inspire and influence future leaders and thinkers who are sure to make a difference in their community and the world."
In collaboration with the Vista Chamber of Commerce, Tri City Christian School is planning to switch on the solar system officially at a ribbon cutting. The event is scheduled for Thursday, January 31st at 1:00 pm at the school's gymnasium and the Mayor as well as several Vista City Council members will be formally inaugurating the array.
The 160kW solar PV system on the school's gym roof uses 642 of 250 W MAGE POWERTEC PLUS modules and generates about 250,000 kWh of electricity per year. © Pierro Solar
We would appreciate sample copies of any reprints.
##############
MAGE SOLAR – The Sun on Your Side
MAGE SOLAR USA, headquartered in Dublin, Georgia, specializes in complete solar systems and provides high-quality photovoltaic modules, intelligent mounting systems and high-performance brand inverters. As a subsidiary of the international MAGE GROUP, it uses the Group's 40 years of know-how to develop optimally coordinated system solutions. A competent partner network guarantees profitable solar energy systems for customers throughout the Americas and in 21 more countries in Europe, Asia, Africa, and Australia. In 2011, the company generated U$280 in sales with around 180 employees.
www.magesolar.com
www.facebook.com/magesolar
www.twitter.com/mage_solar
www.linkedin.com/company/mage-solar-projects-inc
Pierro Solar
Pierro Construction is a family owned and operated contracting company located in Vista, CA, experienced with installing over 200 solar panel systems throughout Southern California and licensed in Contracting (General B # 733173), Roofing (C-39), and Electrical (C-10). Pierro's solar panel system installations include our signature installation method, which sets the solar panels directly into the shingles on the roof, is included with each purchase free as an incentive to encourage our neighborhood to contribute in the creation of a better environment through producing clean energy through solar power.
www.pierrosolar.com
Featured Product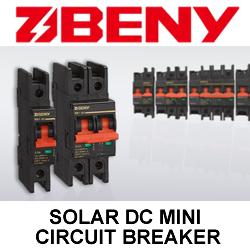 The BB1-63 modular miniature circuit-breakers can be used in solar DC circuits up to 1200 VDC (4-poles execution). Application in solar DC circuits, battery energy storage systems and UPS. Arc flash barrier design keeps solar equipment more safe and reliable. For DC circuit over-current protection.