Clean Energy and Energy Smart Technologies League Tables reveal the financiers and advisors that were most active in low-carbon investment last year
London and New York, 17 January 2013 – Bloomberg New Energy Finance has today released its 2012 league table results, which reveal the leading investors and service providers in clean energy and the energy smart technologies sectors. The list shows different leaders from the previous year in every single category, among them the European Investment Bank in asset finance, Japan-based Toray Industries in mergers and acquisitions, Germany-based HEAG in venture capital and private equity, and Goldman Sachs in public markets.

The 2012 Clean Energy and EST League Tables are based on results calculated from the Bloomberg New Energy Finance Industry Intelligence database, the world's largest and most authoritative resource covering financial transactions in these sectors. The same source produced figures earlier this week showing that clean energy investment was $268.7bn in 2012, the third successive year in which it has exceeded quarter of a trillion dollars. However the 2012 total was down 11% on 2011, hit by regulatory uncertainty and policy changes in some key markets.
The league tables identify the most active and innovative investors, project financiers, investment banks, and law firms in sectors as varied as wind, solar, bioenergy, geothermal, carbon capture and storage, low-carbon services, smart grid, energy efficiency and electric vehicles.
Michael Liebreich, chief executive of Bloomberg New Energy Finance, said: "This is the eighth year we have prepared annual league tables showing the most active deal-makers in the sector. The transactions in 2012 that helped to produce winners this time included everything from a $1bn-plus offshore wind financing, to a $701m energy storage acquisition, to an $18m venture capital investment in a solid-state lighting technology developer."
Bloomberg New Energy Finance is honouring 12 organisations as award winners, in venture capital and private equity, mergers and acquisitions, asset finance and public markets. The winners for 2012 are:
Asset Finance
Top Lead Arranger (by total $m amount)
European Investment Bank (Luxembourg)
Top Syndicated Lender (by total $m amount)
Mitsubishi UFJ Financial (Japan)
Top Sponsor (by total $m amount)
Energie Baden-Wuerttemberg (Germany)
Legal Advisor (by total $m amount)
Linklaters (United Kingdom)
Mergers & Acquisitions
Top Acquirer
Toray Industries (Japan)
Venture Capital & Private Equity
Top Investor by (by total $m deal credit)
HEAG (Germany)
Top Investor by Number of Disclosed Investments
Emerald Technology Ventures (Switzerland)
Acquisition Advisors
Top M&A / VCPE Financial Advisor
BTG Pactual (Brazil)
Top M&A / VCPE Legal Advisor
Machado Meyer (Brazil)
Public Markets
Top Public Markets Lead Manager
Goldman Sachs (United States)
Top Public Markets Co-Lead Manager
Bank of Nova Scotia (Canada)
Top Public Markets Legal Advisor
Davis Polk & Wardwell (United States)
A White Paper showing much more detail on the 2012 League Tables is available for download at http://about.bnef.com/2013/01/17/2012-bnef-clean-energy-energy-smart-technologies-league-tables-the-results/
ABOUT BLOOMBERG NEW ENERGY FINANCE
Bloomberg New Energy Finance (BNEF) is the world's definitive source of research, forecasts, data and news in clean energy and related industries, including power, gas, carbon and water. BNEF has staff of more than 200, based in London, Washington D.C., New York, Beijing, Hong Kong, Tokyo, New Delhi, Cape Town, Sćo Paulo, Singapore, and Sydney.
BNEF Insight Services provide economic analysis in the following industries and markets: wind, solar, bioenergy, geothermal, hydro & marine, gas, nuclear, carbon capture and storage, energy efficiency, digital energy, energy storage, advanced transportation, carbon markets, REC markets, power markets and water. BNEF's Industry Intelligence Service provides access to the world's most comprehensive database of assets, investments, companies and equipment in the same sectors. The BNEF News Service is the leading global news service focusing on finance, policy and economics for the same sectors. The group also undertakes applied research on behalf of clients and runs senior-level networking events, including the annual BNEF Summit, the premier event on the future of the energy industry.
New Energy Finance Limited was acquired by Bloomberg L.P. in December 2009, and its services and products are now owned and distributed by Bloomberg Finance L.P., except that Bloomberg L.P. and its subsidiaries distribute these products in Argentina, Bermuda, China, India, Japan, and Korea. For more information on Bloomberg New Energy Finance: http://about.bnef.com.
ABOUT BLOOMBERG
Bloomberg is the world's most trusted source of information for businesses and professionals. Bloomberg combines innovative technology with unmatched analytic, data, news, display and distribution capabilities, to deliver critical information via the BLOOMBERG PROFESSIONAL® service and Multimedia platforms. Bloomberg's media services cover the world with more than 2,300 news and Multimedia professionals at 146 bureaus in 72 countries. The BLOOMBERG TELEVISION® 24-hour network reaches more than 240 million homes. BLOOMBERG RADIO® services broadcast via Sirius XM Radio and 1worldspace™ satellite radio globally and on WBBR 1130AM in New York. BLOOMBERG MARKETS® magazine, Bloomberg Businessweek magazine and the BLOOMBERG.COM® Web site provide news and insight to business leaders and financial professionals. For more information, please visit http://www.bloomberg.com .
The BLOOMBERG PROFESSIONAL service and data products are owned and distributed by Bloomberg Finance L.P. (BFLP) except that Bloomberg L.P. and its subsidiaries (BLP) distribute these products in Argentina, Bermuda, China, India, Japan and Korea. BLOOMBERG, BLOOMBERG NEWS, BLOOMBERG TELEVISION, BLOOMBERG RADIO, BLOOMBERG MARKETS AND BLOOMBERG.COM are trademarks and service marks of Bloomberg Finance L.P., a Delaware limited partnership, or its subsidiaries.
Featured Product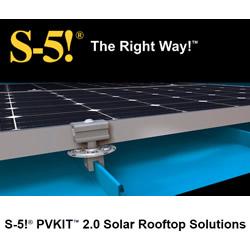 The concept of combining PV arrays with standing seam metal roofing is growing-for good reasons. Metal roofs have a life expectancy of more than 40 years. Shouldn't the mounting system last as long? With S-5! zero-penetration attachment technology and PVKIT 2.0, the solarized metal roof is the most sustainable system available -and without compromising roof warranties! PVKIT 2.0 is the also the best solution for attaching PV modules directly to any exposed fastener metal roof.